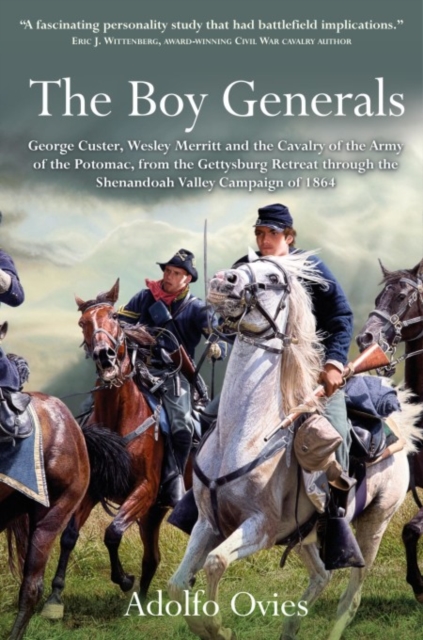 The Boy Generals : George Custer, Wesley Merritt and the Cavalry of the Army of the Potomac, from the Gettysburg Retreat Through the Shenandoah Valley Campaign of 1864
Hardback
Description

Information

Other Formats
Description
The second installment of Al Ovies' The Boy Generals trilogy, George Custer, Wesley Merritt and the Cavalry of the Army of the Potomac, from the Gettysburg Retreat through the Shenandoah Valley Campaign of 1864, encompasses a period jammed with tumultuous events for the cavalry on and off the battlefield and a significant change of command at the top. Once below the Potomac River, the Union troopers raced down the east side of the Blue Ridge Mountains but were unable to prevent General Lee's wounded Army of Northern Virginia from reaching Culpeper.
The balance of the 1863 was a series of maneuvers, raids, and fighting that witnessed the near-destruction of the Michigan Cavalry Brigade at Buckland Mills and the indecisive and frustrating efforts of the Bristoe Station and Mine Run campaigns.
Alfred Pleasonton's controversial command of the mounted arm ended abruptly, only to be replaced by the more controversial Philip H.
Sheridan, whose combustible personality intensified the animosity burning between George Custer and Wesley Merritt. Victory and glory followed the Cavalry Corps during the early days of Overland campaign, particularly at Yellow Tavern, where Rebel cavalier Jeb Stuart was mortally wounded.
The "spirited rivalry" between Custer and Merritt, in turn, took a turn for the worse.
At Trevilian Station, the bitterness and rancor permeating their relationship broke into the open to include harsh official reports critical of the other's actions.
Merritt's elevation to temporary command of the 1st Cavalry Division cemented their rancor. Just as their relationship worsened, so too did the tenor of the war darken as the sieges of Richmond and Petersburg ground on, and Confederate partisan Col.
John S. Mosby intensified guerrilla operations that disrupted Union logistics in the Shenandoah Valley.
When Gen. Ulysses Grant demanded that Sheridan escalate retribution, the cavalry commander delivered his infamous edict to "eat out Virginia clear and clean as far as they go, so that crows flying over it for the balance of the season will have to carry their provender with them." Much of the gritty task fell on the shoulders of the boy generals. Adolfo Ovies' well-researched and meticulously detailed account of the increasingly dysfunctional relationship between Custer and Merritt follows the same entertaining style in the first installment.
The Boy Generals changes the way Civil War enthusiasts will understand and judge the actions of the Union's bold riders.
Information
Format:

Hardback

Pages:

408 pages, 35 images, 15 maps

Publisher:

Savas Beatie

Publication Date:

15/11/2022

Category:

ISBN:

9781611216172
Information
Format:

Hardback

Pages:

408 pages, 35 images, 15 maps

Publisher:

Savas Beatie

Publication Date:

15/11/2022

Category:

ISBN:

9781611216172