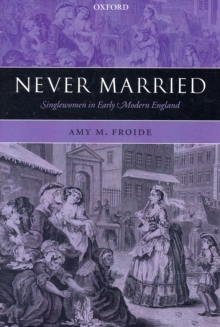 Never Married : Singlewomen in Early Modern England
Paperback / softback
Description
Never Married: Singlewomen in Early Modern England investigates a paradox in the history of early modern England: although one third of adult women were never married, these women have remained largely absent from historical scholarship.
Amy Froide reintroduces us to the category of difference called marital status and to the significant ways it shaped the life experiences of early modern women.
By de-centring marriage as the norm in social, economic, andcultural terms, her book critically refines our current understanding of people's lives in the past and adds to a recent line of scholarship that questions just how common 'traditional' families really were.
This book is both a social-economic study of singlewomen and a cultural study of the meanings of singleness in early modern England.
It focuses on never-married women in England's provincial towns, and on singlewomen from a broad social spectrum.
Covering the entire early modern era, it reveals that this was a time of transition in the history of never-married women.
During the sixteenth century life-long singlewomen were largely absent from popular culture, but by the eighteenth century theyhad become a central concern of English society.
As the first book of original research to focus on singlewomen on the period, it also illuminates other areas of early modern history.
Froide reveals the importance of kinship in the past to women without husbands and children, as well as to widows, widowers, single men, and orphans.
Examining the contributions of working and propertied singlewomen, she is able to illustrate the importance of gender and marital status to urban economies and to notions of urban citizenship in the early modernera.
Tracing the origins of the spinster and old maid stereotypes she reveals how singlewomen were marginalized as first the victims and then the villains of Protestant English society.
Information
Format:

Paperback / softback

Pages:

256 pages, 3 tables

Publisher:

Oxford University Press

Publication Date:

01/09/2007

Category: British & Irish history
ISBN:

9780199237623
Free
Standard Delivery

Within the UK