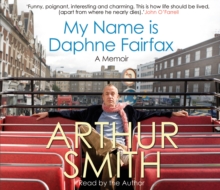 My Name is Daphne Fairfax : A Memoir
CD-Audio
Description
'My name is Arthur Smith, unless there's anybody here from the Streatham tax office.
In which case, I'm Daphne Fairfax.' This is a line Arthur has used at a thousand different stand-up gigs. In fact, he is neither Daphne or Arthur. Family and old friends know him as Brian. Arthur Smith is best known as a comedian, a broadcaster and an opening bat for Grumpy Old Men.
But he has also been a West End playwright (his plays include An Evening with Gary Lineker), an English teacher, a failed rock star, a busker, a road sweeper and a bombsite boy in post-war Bermondsey. Smith was one of the 'alternative comedians' who shook up light entertainment in the eighties and remains a legend at the Edinburgh Festival fringe where he has been feted and arrested.
His rumbustuous drinking years ended in Intensive Care where he narrowly survived an attack of acute pancreatitis.
He gave up drink and got diabetes but continues to perform, write and act in peculiar ways and delight his fans. This memoir encompasses a range of extraordinary, funny and often moving experiences by a unique and individual commentator on the peculiarities of modern society.
Free
Standard Delivery

Within the UK