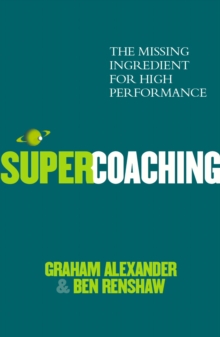 Description
Super Coaching is for anyone wanting to succeed in a frenetic and unpredictable world.
Coaching is an extremely successful new trend: a coach is a cross between a psycho-analyst and personal trainer, someone who is there to motivate and inspire you to work things out for yourself.
This book means that you don't have to find your own personal coach - everything you need to know is here.
Getting the job done is no longer good enough: relationships, whether with colleagues, customers, friends and family, are our greatest asset and the key to career success and personal happiness.
Ben Renshaw's many media credits include relationship coach for C4's award-winning series Perfect Match.
Graham Alexander is the founder of business coaching in Europe with just under 20 years' experience in the field.
Together they make a unique team, showing you how to follow coaching principles to achieve everything you want in a career and life.
Free
Standard Delivery

Within the UK