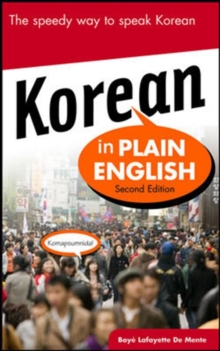 Korean in Plain English, Second Edition
Paperback / softback
Information

Description

Other Formats
Description
Next time someone asks if you speak Korean, you can say Chugum hal chul amnida (Choe-guum hahl chuul ahm-nee-dah).*With Korean in Plain English, you can speak Korean in no time!
Its easy-to-use pronunciation system and straightforward presentation of the basics of the language--with plenty of useful sentences--help you break the language barrier quickly and confidently.
How? All the words and phrases in this book are written in Roman script--in plain English--in a form you can use immediately and in the right context.
Instantly you'll know the basics of Korean, from polite pleasantries to the latest technological jargon. Start on the right foot and speak Korean with ease:Good morning!
Annyong hashim nikka! (Ahn-nyong hah-sheem nee-kkah)Thank you! Kamsahamnida! (Kahm-sah-hahm-nee-dah)That was really a funny movie.
Chongmallo usuun yonghwa imnida. (Chahng-mahl-loh uu-sue-uun yahng-hwah eem-nee-dah). Please call the police. Kyongchal-ul pullo chuseyo. (Kyong-chahl-uul puul-lah chuu-say-yoe). May I have some sauce, please? Sosu jom chushipshio (Soh-sue johm chuu-sheep-shee-oh). You are beautiful. Tangshin-un arumdapgunyo (Tahng-sheen-uun ah-rume-dahp-guun-yoe).
Information
Format:

Paperback / softback

Pages:

280 pages

Publisher:

McGraw-Hill Education - Europe

Publication Date:

16/03/2007

Category:

ISBN:

9780071482974