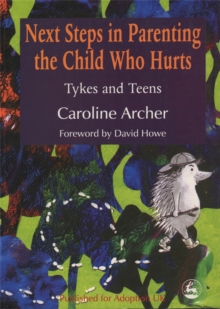 Next Steps in Parenting the Child Who Hurts : Tykes and Teens
Paperback / softback
Information

Description

Other Formats
Description
Written by an experienced adoptive parent, this clear, sensitive and practical handbook is designed to encourage and support adoptive and long-term foster parents, their children and adolescents.
An adopted child may well have suffered abuse, neglect or inconsistent parenting in the past; he or she will certainly have experienced painful separations and losses.
These early traumatic experiences, often expressed in emotional and behavioural problems within the family, can conceal a broad range of subtle alterations to the brain and nervous system of the developing child.
They may become increasingly problematic as the youngster approaches the developmental challenges of adolescence. Drawing on both firsthand experience and some of the latest medical research, Caroline Archer presents strategies to help parents deal with their youngsters' troubling behaviour and to make them feel more comfortable, in what seems to them a hostile world. Archer sets out to provide adoptive and foster parents with an understanding of the complex range of difficulties with which their children may struggle as a result of their early experience of adversity.
By exploring, in very simple ways, the effects of adverse experiences on the child's built-in biological response systems, she assists parents to make sense of the frequently perplexing behaviours of the hurt child within their family.
Common situations which she specifically addresses include: sleep problems; anger, aggression and violence; lying and stealing; staying out late and running away; addictive behaviours and self harm; impulsiveness and risk-taking; sex; suicide and compulsive eating disorders. Following on from First Steps in Parenting the Child Who Hurts: Tiddlers and Toddlers (2nd edition), Next Steps will be an invaluable resource for adoptive and foster parents seeking to support their child through the later stages of childhood and adolescence.
This book will also be an essential practical guide for professionals working with families and eager to gain a thorough understanding of the on-going developmental and relationship difficulties of adopted children.
Information
Format:

Paperback / softback

Pages:

224 pages

Publisher:

Jessica Kingsley Publishers

Publication Date:

01/08/1999

Category:

ISBN:

9781853028021