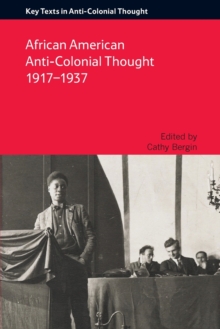 African American Anti-Colonial Thought 1917-1937
Paperback / softback
Description
An investigation of interwar African American critiques of racism and colonialismThis volume re-publishes key texts produced by African American anti-colonial activists between 1917-1937. Some of these texts remain well-known, but many have disappeared from view and are once again re-inserted in their original polemical contexts.
The context for these writings is the turbulent politics of `race' in the US in the interwar years and the emergence of a particular `race'/class politics.
The framing of the material in the book stresses those texts which are specifically concerned with finding connections between the plight of African Americans and those who suffer colonial oppression in order to emphasise the dialectical nature of anti-colonial struggle. The intention of many of these writers was to create a space for interracial class politics.
Despite, or because of, the complexities of negotiating `race', class and colonialism, this material gives us access to an historically specific attempt to create a `race'/class politics attuned to the challenges of confronting racism of the USA and beyond. Key FeaturesIntroduces a powerful, but neglected, tradition of African American anti-colonial writingLocates African American anti-colonial writing of the interwar years in both a US and global contextStresses the dialectical nature of the relationship between anti-colonial politics and political activismReflects upon the relevance of interwar African American anti-colonial writings to contemporary debates about racism and neo-colonialismEmphasises the relationship between African American politics and the Left during this period
Information
Format:

Paperback / softback

Pages:

272 pages

Publisher:

Edinburgh University Press

Publication Date:

23/06/2016

Category: Anthologies (non-poetry)
ISBN:

9781474409575
Free
Standard Delivery

Within the UK