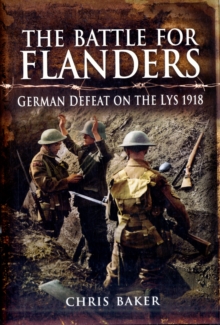 The Battle for Flanders : German Defeat on the Lys 1918
Hardback
Description
The Battle of the Lys, fought in April 1918, was critical for the Allies and for Germany.
The outcome of the Great War hung in the balance. After the successful German offensive on the Somme, their breakthrough on the Lys threatened Ypres and the British hold on Flanders and brought them close to victory on the Western Front.
The Allied line was broken - it was only saved by improvisation and great gallantry - and the German onslaught tested Allied cooperation under the newly appointed Generalissimo Ferdinand Foch to the limit.
Yet, as Chris Baker shows in this compelling account, the declining force of the German attack revealed deficiencies in material, organization and morale that led to their ultimate defeat.
Free
Standard Delivery

Within the UK