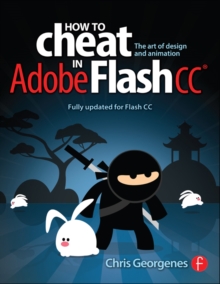 How to Cheat in Adobe Flash CC : The Art of Design and Animation
PDF
Click here to see our help pages on reading this eBook on your chosen device. Please note that this eBook is incompatible with Kindle eReaders. Don't forget you'll need Adobe Digital Editions, if you don't already have it.
Description
Move beyond the limitations of programming standards and license agreements and get back to animating with a new edition of the bestselling How to Cheat in Adobe Flash, the real world guide to developing dynamic and fun Flash content. Whether you are creating an animated short, catchy and fun cartoon or mobile game, save time and money with expert cheats by renowned Flash Expert, Chris Georgenes with all new content for the Flash CSX revision. With practical applications and step by step tutorials solve problems quickly to develop creative projects to time and to budget. Want to hone your Flash skills so you can remain competitive in a diverse market while concentrating on your animation? Then How to Cheat in Flash is for you! Chris Georgenes shows how to work from the problem to the solution - from the viewpoint of an animator who has been commissioned to create a job and is working to a deadline and to a budget. Each technique is designed as a double-page spread so you can prop the book up behind your keyboard or next to your monitor as a visual reference while working alongside it. Many of these walkthroughs are real-world client projects, with the source files supplied for you to open and explore. With these real-life professional projects you'll discover how to: bring objects to life with cool motion effects, make it rain, snow or set your world ablaze, develop flash mobile applications and many more tips and tricks not found anywhere else!
With his in-depth knowledge of the little-known secrets used by the pros to produce creative, professional animations, Chris is the go-to guru for designers and animators who want to create great animation, applications or motion design with Flash. Fully updated for CSX, How to Cheat in Flash CSX, is a goldmine of artistic inspiration, timesaving practical tips, tricks and step-by-step walkthroughs that you'll wonder how you survived without it. New! CSX cheats and examples with practical solutions for the busy animator with a focus on Action Script, Flash for mobile applications, specifically for Android development, as well as a focus on an improved physics engine. Put the Adobe Flash CSX cheats to the test with the fully updated companion website with downloadable Flash source files, examples and video tutorials, and a creative commons game, developed with Adobe, to demonstrate the new functionality of CSX!