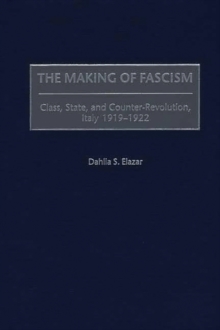 The Making of Fascism : Class, State, and Counter-Revolution, Italy 1919-1922
Hardback
Description
Elazar examines the social and political processes that determined the character of Fascist organization in Italy and its seizure of state power first in the provinces and then in the nation.
She argues that the Fascists' modus operandi shaped the political struggles they engaged in and reflexively determined their own political significance.
Employing both primary and secondary historical sources, Elazar reveals the crucial internal political struggles and inner contradictions through which Fascism was invented. The political strategy of paramilitary organization and assault on labor and the Socialists carried out by the Fascist Action Squads in collusion with men of property was crucial in determining their seizure of power.
But this also determined the ideological and organizational contours of Fascism itself.
The Fascist Squads' alliances with men of property made them a formidable faction within the Fascist organization that could and did challenge Mussolini's authority.
The making of Fascism is thus marked by the irony of the relationship between Mussolini and his political power base--the Squads.
The very element of paramilitary organization that was decisive in the Fascists' seizure of power in the provinces had to be submerged by Mussolini if he was to preserve his power.
Historical and comparative sociologists, political sociologists, and students of Italian Fascism and Italian history will find this new explanation of the making of Fascism both provacative and fascinating.
Free
Standard Delivery

Within the UK