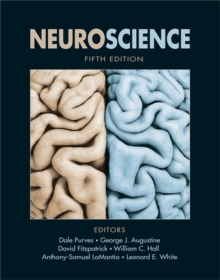 Description
In a single concise and approachable volume, this bestselling textbook guides students through the challenges and excitement of this rapidly changing field.
The book's concise length and accessible writing are a successful combination that works equally well for medical students and in undergraduate neuroscience courses.
In this new edition the text is thoroughly revised and includes expanded full colour art throughout.STUDENT SUPPLEMENTSCompanion Website (sites.sinauer.com/neuroscience5e)The Neuroscience companion website features review and study tools to help students master the material presented in the neuroscience course.
Access to the site is free of charge and requires no access code.
The site includes chapter summaries, animations, flashcards and key terms.LECTURER SUPPLEMENTS (Only available for confirmed adopters of the textbook - see details below) Instructor's Resource LibraryLecturers Supplements are available to confirmed adopters of the textbook.
To request, please email lecturerservices@palgrave.com with the title and ISBN of the required supplement together with your academic details: Supplement requested ISBN Your name Your Job Title Your academic address Your academic email Module name Module start date Module student numbers
Free
Standard Delivery

Within the UK