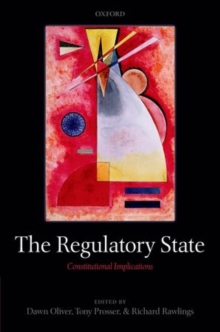 The Regulatory State : Constitutional Implications
Hardback
Description
This collection of fifteen essays by leading experts in regulation is unique in its focus on the constitutional implications of recent regulatory developments in the UK, the EU, and the US.
The chapters reflect current developments and crises which are significant in many areas of public policy, not only regulation.
These include the development of governance in place of government in many policy areas, the emergence of networks of public and private actors, thecredit crunch, techniques for countering climate change, the implications for fundamental rights of regulatory arrangements and the development of complex accountability mechanisms designed to promote policy objectives. Constitutional issues discussed include regulatory governance, models of economic and social regulation, non-parliamentary rule-making, the UK's devolution arrangements and regulation, the credit crisis, the rationing of common resources, regulation and fundamental rights, the European Competition Network, private law making and European integration, innovative regulator sanctions recently introduced in the UK, the auditing of regulatory reform, and parliamentary oversight and judicial reviewof regulators.
The introductory chapter focuses on testing times for regulation, and the concluding chapter draws ten lessons from the substantive chapters, noting the importance of regulatory diversity, the complexity of networks and relations between regulatory actors and the executive, the newchallenges to regulatory habits posed by climate change and the credit crisis, the wider economic and legal context in which regulation takes place and the accountability networks - including judicial review, parliamentary oversight and audit - within which regulation operates.
Free
Standard Delivery

Within the UK