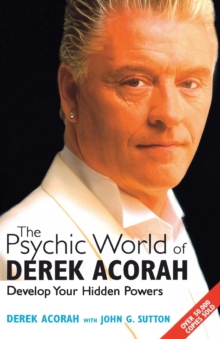 The Psychic World of Derek Acorah : Develop Your Hidden Powers
Paperback
Description
Have you ever had a dream that came true? Or sensed that someone was present even though no one was physically there? Or discovered you could read a friend's mind? In this fascinating book, renowned psychic Derek Acorah reveals that we all have psychic potential and shows us how we can tap into and develop our psychic ability.
You will learn how to: build your psychic awareness through meditation; develop telepathy skills and divination techniques; use the spirit world for guidance and healing; identify paranormal experiences.
Packed with the insights, in-depth knowledge and good humour of one of the world's most amazing psychics, The Psychic World of Derek Acorah will change your life forever. 'Derek's clairvoyant skills have stunned the scientific community and proven to be incredibly accurate.' Dr Larry Montz, Chairman and founder of the International Society for Paranormal Research.
Free
Standard Delivery

Within the UK