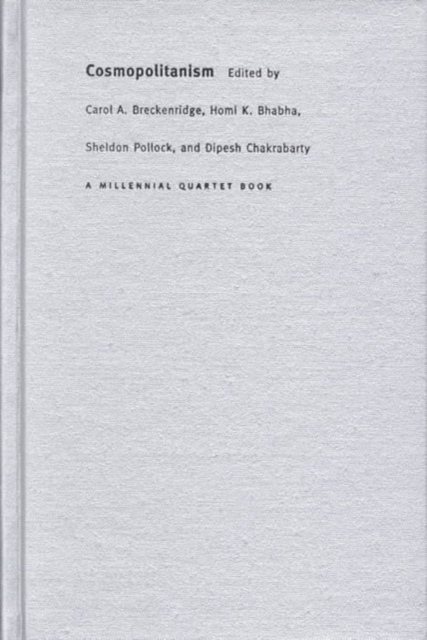 Description

Information

Other Formats
Description
As the final installment of Public Culture's Millennial Quartet, Cosmopolitanism assesses the pasts and possible futures of cosmopolitanism-or ways of thinking, feeling, and acting beyond one's particular society.
With contributions from distinguished scholars in disciplines such as literary studies, art history, South Asian studies, and anthropology, this volume recenters the history and theory of translocal political aspirations and cultural ideas from the usual Western vantage point to areas outside Europe, such as South Asia, China, and Africa.
By examining new archives, proposing new theoretical formulations, and suggesting new possibilities of political practice, the contributors critically probe the concept of cosmopolitanism.
On the one hand, cosmopolitanism may be taken to promise a form of supraregional political solidarity, but on the other, these essays argue, it may erode precisely those intimate cultural differences that derive their meaning from particular places and traditions.
Given that most cosmopolitan political formations-from the Roman empire and European imperialism to contemporary globalization-have been coercive and unequal, can there be a noncoercive and egalitarian cosmopolitan politics?
Finally, the volume asks whether cosmopolitanism can promise any universalism that is not the unwarranted generalization of some Western particular.Contributors.
Ackbar Abbas, Arjun Appadurai, Homi K. Bhabha, T. K. Biaya, Carol A. Breckenridge, Dipesh Chakrabarty, Ousame Ndiaye Dago, Mamadou Diouf, Wu Hung, Walter D.
Mignolo, Sheldon Pollock, Steven Randall
Information
Format:

Hardback

Pages:

260 pages, 24 photos (incl. 4 page color insert), 1 table, 1 map

Publisher:

Duke University Press

Publication Date:

10/05/2002

Category:

ISBN:

9780822328841
Information
Format:

Hardback

Pages:

260 pages, 24 photos (incl. 4 page color insert), 1 table, 1 map

Publisher:

Duke University Press

Publication Date:

10/05/2002

Category:

ISBN:

9780822328841