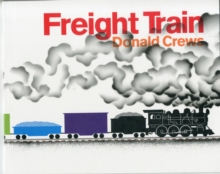 Description
Red guard's van at the back. Orange petrol tanker next. Yellow grain hopper...A perfect book for introducing very young children to different colours and the concept of colour merging.
The freight train moves along through tunnels, past cities, over bridges, in darkness and in daylight with its assorted multi-coloured cargo.
As the train goes faster and faster the colours of the different trucks merge, until finally the whole train disappears. Widely considered a modern classic, Freight Train by Donald Crews was first published in 1978 and has sold over a million copies worldwide. THE AUTHOR SAYS...In Freight Train my premise was simply to identify a train and let it go.
I had to constantly fight against showing or saying more than that and weakening the simplicity and power of that emotion.I am still overjoyed at the illustrated moment in Freight Train, after the train is assembled and identified and the next page shows the train moving.
Oftentimes my young audience gasps in joy. Perfect. I didn't plan this, but I couldn't be more pleased.The images, words, and actions work as I had hoped.Not too long, not too short, just right.-REVIEWS - "You don't have to like trains to love this simple and witty book.
Trundling down the track goes a typical freight train, made beautiful by its bright colours, from the red guard's van through to the black tender and steam engine.
Bold and clear, the colours stand out, until the train gathers speed and they are all whirled together as it hurtles through tunnels, over bridges, through night and day until, as trains do, it disappears.
Nothing is said, nothing needs to be said; it's just a very satisfying experience. And a good introduction to colours, too." -- THE GUARDIAN (Best Books of the Year, best children's books for giving), Julia Eccleshare. "Bold and modern illustrations reflect a simple poetic narrative that will captivate little train lovers.
Each rail wagon is a bright colour (green cattle truck, purple fruit van), which start to blur as the engine speeds through tunnels and into the night.
Very stylish." -- JUNIOR MAGAZINE. "A richly rewarding first picture book, this is a most welcome reissue."-- Rosemary Stones, BOOKS FOR KEEPS, Best Children's Books of the Year"A simple seeming book which is a wonderful way of introducing colour and colour mixing to children.
The brightly coloured trucks steam along and as they gather speed, travelling through tunnels, past cities and over bridges, the colours blend until finally the train disappears.
Few words are needed as the pictures speak for themselves.
Encourage your child to use his imagination to tell stories based on the book.
Simple and amazingly effective." -- PARENTS IN TOUCH"At first sight this seems like a very simple picture book with just the depiction of a steam enging pulling freight trucks carrying petrol, grain, cattle, coal and fruit. It is the striking colours of each carriage that createes a sense of excitment and movement as the train picks up speed and passes through tunnels, past cities, across bridges, into darkness and back into daylight, finally disappearing from view leaving only a thin trail of steam. Originally published in the United States in 1978, it remains a great way of introducing young readers to colours, but especially the way that they merge like a film fast-forwarding.Lacking any narrative, it displays the excitement of a high speed locomotive rushing past our eyes, as we ponder where such a dazzling machine is heading. " -- CAROUSEL MAGAZINE"In this brilliantly simple picture book graphics have been inventively used to bring the toddler the excitement of seeing a freight train rush past...A barrier breaker, this."CHILDREN'S BOOKS OF THE YEAR, 1979"Donald Crews', Freight Train, completely embodies the ideal young children's picture book.The book combines simplicity with wonder, boldness with soft edges, and tranquility with excitement.It was due to all of these characteristics and many others that this children's book received the Caldecott Medal in 1979. [...]Donald Crews artwork is both simple and intricate all at the same time, just like his text.
The colors are infectious and the range of textures used is very appealing.
Some of the illustrations are clean and straight lined, while others show action and movement through blurred and smudged edges.
I really think that this makes the reader feel as if they are moving along with the train and seeing what the train is seeing.I like that the different cars represent different colors, which allows the children to connect colors to the matching words.[...]I would highly recommend this book to any preschool teacher, new parent, or anyone else dealing with young children.
I think that the book's features are most appropriate for very young readers and will definitely spark an interest in books.
The book is available in hardcover, paperback, and more recently, board book format.
It would be a great addition to any young child's book collection!" -- Abby Lester, review on Neely's News, 2011"The illustrations are wonderful.
The colors of the train are clear, but it is the motion of the train that dazzled me." -- GOODREADS. "This has been my youngest son's favorite book for 5 years.
The illustrations get you so close-up to a freight train - you can see the rivets! -- and once the train starts rolling, we make chugga-chugga noises as we turn the pages.
The illustration of the train in motion is a thing of beauty.
This book is so much fun." -- Amazon.com
Information
Format:

Paperback

Pages:

24 pages, chiefly col. Illustrations

Publisher:

Phoenix Yard Books

Publication Date:

25/04/2012

Category: Picture storybooks
ISBN:

9781907912108
Free
Standard Delivery

Within the UK
Also by Donald Crews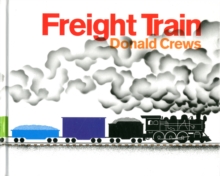 Available with free
standard delivery
Available with free
standard delivery