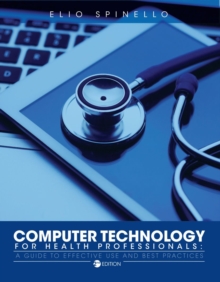 Computer Technology for Health Professionals : A Guide to Effective Use and Best Practices
Paperback / softback
Description
The second edition of Computer Technology for Health Professionals: A Guide to Effective Use and Best Practices bridges the "why" and the "how" of desktop computer technology.
This introductory book provides easy to understand explanations of commonly used desktop hardware and software technology within the context of its use in the fields of clinical healthcare and public health practice.
Step-by-step instruction on the use of software tools is included, as well as an emphasis on best practices for their use in healthcare and public health organizations. Topics include legal issues for computer users in health-related fields, hardware, software, malware, electronic spreadsheets, data visualization, and relational database management using Microsoft Office.
The book also addresses health-related literature research using literature databases, as well as web search engines, with a focus on assessing the scientific validity of health information found online. Readers will also learn about Boolean Logic as it is applied to relational databases and online literature searches, organizational decision-making for the selection and purchase of software, as well as Geographic Information Systems.
Each chapter features an "Apply Your Knowledge" section with hands-on exercises that allow readers to immediately implement concepts and skills. Computer Technology for Health Professionals is a common sense approach to using both hardware and software.
The book is written for introductory courses in computer proficiency in the fields of the health sciences and public health.
Practicing professionals can use the text as a refresher or to bolster skills in specific computer applications.
Free
Standard Delivery

Within the UK