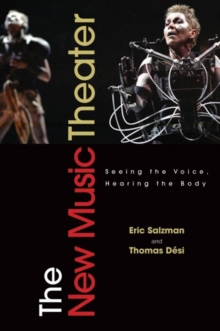 The New Music Theater : Seeing the Voice, Hearing the Body
Hardback
Information

Description

Other Formats
Description
Alternatives to grand opera and the popular musical can be traced back through the modernist experiments of the 60s, the Broadway and off-Broadway theater operas of the 30s and 40s, to early Stravinsky and Kurt Weill, and at least as far as the 1912 premiere of Schoenberg's Pierrot Lunaire.
Yet this ongoing history has never been properly sorted out, its complex ideas and philosophy as well as musical and theatrical achievements never brought fully to light. The New Music Theater is the first comprehensive attempt in English to cover this still-emerging art form in its widest range.
Written for the reader who comes from the contemporary worlds of music, theater, film, literature and visual arts, this book provides a wealth of examples and descriptions not onlyof the works themselves, but of the concepts, ideas and trends that have gone into the evolution of what may be the most central performance art form of the post-modern world.
Authors Salzman and Desi consider the subject of music theatre from a social as well as artistic point of view, exploring how theater works in culture, and how music works in the theater. In the first part of the book, they treat the origins of theater itself, putting forth insightful discussions about the relationship between language and music, song and speech, story-telling and expression, theatrical movement and dance. Their exploration then moves into the crucial relationships betweenhigh art forms and popular culture, and between entertainment and instruction.
The authors proceed in the book's second part to the forms that music theater has taken from ancient times to the present day, investigating its gradual transformations from popular theater to more structured high art forms,to the eclectic mixture of forms which flourish today. This brings the reader into the third part, in which Salzman and Deszy trace the contemporary music theater renaissance from the cubist, dadaist, and futurist experiments of the 20s and 30s to the inter-arts movements of the 50s and 60s.
Here they survey the increasingly pervasive impact of media and technology and the influence of jazz, pop, and world beat on new theatre forms and styles of today. This section also features aspecial section on vocal style and language, and extended vocal techniques. The final and fourth part of the book assesses the present state of music theater.
Illuminating their discussion with illustrations from current artists and their works, the authors sum up what we have learned, and respond to suchquestions as: How does music work in theater? What does it mean when people get up on stage and sing instead of speak? And how much of this is universal? Through this process, The New Music Theater both describes where we have been and points the way to the future of this all-encompassing art form.
Information
Format:

Hardback

Pages:

416 pages, 53 halftones

Publisher:

Oxford University Press Inc

Publication Date:

06/11/2008

Category:

ISBN:

9780195099362