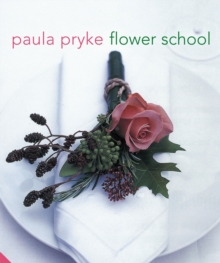 Description
Everything you need to know about the Paula Pryke style can be found in this practical and inspirational sourcebook.
Packed with ideas, skills and techniques, Flower School enables you to explore the latest trends in floral design by assimilating Paula's signature style of cutting-edge floristry.
On mastering the basic techniques and elements of good floral design you will be able to recreate the essence of Paula's flowers at home or for a special event, develop your own style, and in time, become a serious floral artist.
Flower School's simple text and step-by-step instructions for a broad range of stunning projects make even the most ambitious floral design achievable.
The rasion d'etre of any flower arrangement is the starting point for every floral designer.
Flowers are always sent, given or displayed to convey personal messages or to create an ambience.
Effective floral design means ensuring that the material, the design and the location are harmonious.
Composition, colour, form and function represent the crucial formulae for success. Paula demystifies the seemingly complex layers of skill needed to replicate her dynamic range of designs; she explains each lesson in turn, with beautiful arrangements shown as visual examples: understanding rhythm and repetition; scale and proportion; balance and harmony; colour, season and contrast and the use of foliage.
Each lesson is a natural building block to gaining personal confidence and ability in floral arranging.
As well as showcasing Paula's signature designs, Flower School provides enormous creative scope with an impressive selection of floral ideas that can be adapted to suit a host of special occasions, from the intimate to the grand in scale.
A seasonal flower directory concludes the book and provides quick reference for blooms all the year round.
Flower School makes good floral design enjoyable and rewarding for everyone.
Free
Standard Delivery

Within the UK