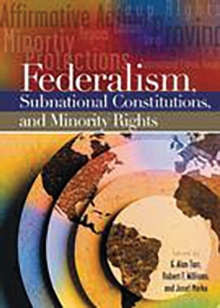 Federalism, Subnational Constitutions, and Minority Rights
Paperback / softback
Description
Whether federalism and subnational constitutions contribute to or undermine minority rights has long been a subject of controversy.
Within the United States, the general view has been that federalism has been detrimental to minority rights.
In contrast, other countries have seen federalism as crucial in safeguarding rights of ethnic and religious minorities.
This volume provides the basis for a more nuanced assessment of the contributions of federalism and subnational constitutions to protecting minority rights by studying their impact in a variety of federal systems. This work explores both mature federal systems (Switzerland, United States) systems in transition (Belgium, Bosnia, Herzegovina), both quasifederal (Italy, Spain) and well-established systems (Germany), both systems with considerable homogeneity of population (Austria) and systems with extraordinary diversity (India).
It also analyses the various constitutional arrangements that federal systems have devised for safeguarding minority rights and given them a voice in political deliberations.
Free
Standard Delivery

Within the UK