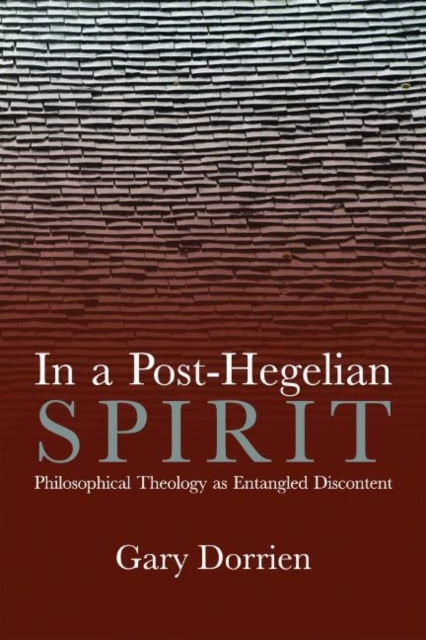 In a Post-Hegelian Spirit : Philosophical Theology as Idealistic Discontent
Hardback
Information

Description

Other Formats
Description
Gary Dorrien expounds in this book the religious philosophy underlying his many magisterial books on modern theology, social ethics, and political philosophy.
His constructive position is liberal-liberationist and post-Hegelian, reflecting his many years of social justice activism and what he calls "my dance with Hegel." Hegel, he argues, broke open the deadliest assumptions of Western thought by conceiving being as becoming and consciousness as the social-subjective relation of spirit to itself; yet his white Eurocentric conceits were grotesquely inflated even by the standards of his time.
Dorrien emphasizes both sides of this Hegelian legacy, contending that it takes a great deal of digging and refuting to recover the parts of Hegel that still matter for religious thought.
By distilling his signature argument about the role of post-Kantian idealism in modern Christian thought, Dorrien fashions a liberationist form of religious idealism: a religious philosophy that is simultaneously both Hegelianaas it expounds a fluid, holistic, open, intersubjective, ambiguous, tragic, and reconciliatory idea of revelationaand post-Hegelian, as it rejects the deep-seated flaws in Hegel's thought.
Dorrien mines Kant, Schleiermacher, and Hegel as the foundation of his argument about intellectual intuition and the creative power of subjectivity.
After analyzing critiques of Hegel by SA,ren Kierkegaard, Karl Marx, Karl Barth, and Emmanuel Levinas, Dorrien contends that though these monumental figures were penetrating in their assessments, they appear one-sided compared to Hegel. In a Post-Hegelian Spirit further engages with the personal idealist tradition founded by Borden Parker Bowne, the process tradition founded by Alfred North Whitehead, and the daring cultural contributions of Paul Tillich, W.
E. B. Du Bois, Martin Luther King Jr., Rosemary Radford Ruether, David Tracy, Peter Hodgson, Edward Farley, Catherine Keller, and Monica Coleman.
Dispelling common interpretations that Hegel's theology simply fashioned a closed system, Dorrien argues instead that Hegel can be interpreted legitimately in six different ways and is best interpreted as a philosopher of love who developed a Christian theodicy of love divine.
Hegel expounded a process theodicy of God salvaging what can be salvaged from history, even as his tragic sense of the carnage of history cuts deep, lingering at Calvary.
Information
Format:

Hardback

Pages:

639 pages

Publisher:

Baylor University Press

Publication Date:

15/04/2020

Category:

ISBN:

9781481311595
Information
Format:

Hardback

Pages:

639 pages

Publisher:

Baylor University Press

Publication Date:

15/04/2020

Category:

ISBN:

9781481311595