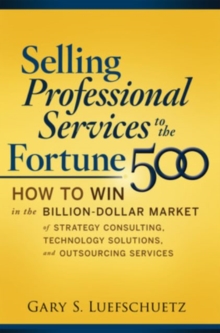 Selling Professional Services to the Fortune 500: How to Win in the Billion-Dollar Market of Strategy Consulting, Technology Solutions, and Outsourcing Services
Hardback
Information

Description

Other Formats
Description
The secrets to grabbing your shareof an $800 billion market!"A recommended read for anyone in line-management or businessdevelopmentroles, whether selling to the Fortune 500 or public sector.The book imparts commonsense information presented in a waythat is easy to relate to and is useable."Lisa Daniels, Vice President, SAIC"A great play-by-play on how to enter and succeed in the professionalservices industry.
As companies look to improve profits that have been erodedby declining product margins, a move into professional services has been theright answer for many.
This book can help you make the move!"Natalie Buford-Young, President, The Rainfield GroupAbout the Book:Despite vast changes in the economysince the 2008 financial crisis, the globalconsulting and outsourcing services marketsremain robust and offer substantial growthopportunities.
While many companies retrenchin the face of chaos, leading managementconsulting firms and IT service providers areseizing the opportunity to adapt to the newbusiness environment, stay relevant to clients,overcome sales and delivery obstacles, andclose new business opportunities. To that end, Selling Professional Services to theFortune 500 explains how to get in the door,whom to target, and how to build the rightrelationships. An operations and finance executive who hasworked with the industry's top firms, GaryS.
Luefschuetz leads you through the processof successfully selling to the world's biggestcompanies.
He provides expert insight intoevery element of the sales cycle-from pickingyour delivery sweet spots to engagingwith corporate procurement organizations tounderstanding the dynamics of the negotiationprocess. With Selling Professional Services to the Fortune500, you have what you need to:Expand your delivery footprintCreate brand awarenessProvide a full suite ofservices across theconsulting lifecycleBuild and maintain trustedadvisor relationshipsDevelop a robust sales pipelineManage stakeholders throughoutthe sales and delivery cycleThe opportunities in the global consulting andoutsourcing services markets have attracted anabundance of new providers, so competitionis fiercer than ever.
As a result, pricing structuresare heavily scrutinized and many servicesare being viewed as commodities by aggressivecorporate procurement organizations.
SellingProfessional Services to the Fortune 500 helpsyou price your service offerings accordinglyand maintain your competitive edge.
Information
Format:

Hardback

Pages:

320 pages, 15 Illustrations, unspecified

Publisher:

McGraw-Hill Education - Europe

Publication Date:

16/03/2010

Category:

ISBN:

9780071622820