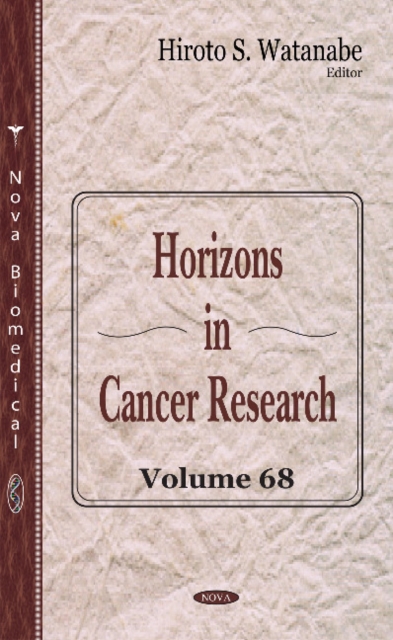 Horizons in Cancer Research : Volume 68
Hardback
Description

Information

Other Formats
Description
High-grade gliomas are the most frequent primitive brain malignancies of the adult and account for approximately 60-75% of all gliomas.
Chapter One concludes the progress in the management of high-grade gliomas requires the simultaneous and synergic effort of a multitude of health professionals including neurosurgeons, neuroncologists, neurointerventionalists, radiologists, immunologists and neuropathologists among others.
Chapter Two describes the fundamental molecular mechanisms involved in the understanding of metastatic growth, the role of some metastasis suppressor proteins in the regulation of these processes in different types of cancer, and the clinical implications of these metastasis suppressors.
Chapter Three highlights the reported knowledge regarding the secretion, regulation and therapeutic potential of melatonin in the prevention of cancer.
Chapter Four reviews the current status of different oncolytic viruses and the molecular mechanism of viral oncolysis in the context of thoracic malignancies.
Chapter Five suggests Coordination Dynamics Therapy can inhibit the growth of different kinds of cancer, especially breast cancer.
Chapter six argues that the long term health outcomes of bilateral surgical oophorectomy justify that in the majority of cases, the defect of hormonal and metabolic equilibrium leads to decreased cellular estrogen surveillance and an increase in both morbidity and mortality.
Chapter seven evaluates the importance of assessing HPV status as a clinically relevant biomarker and to study the therapeutic implications for the appropriate management of HPV-related OPSCC.
Chapter eight covers the complex and multiform network of actions by MicroRNA, and the value of miRNAs in oncology as diagnostic and prognostic indicators.
Information
Format:

Hardback

Pages:

180 pages

Publisher:

Nova Science Publishers Inc

Publication Date:

01/08/2017

Category:

ISBN:

9781536122497
Information
Format:

Hardback

Pages:

180 pages

Publisher:

Nova Science Publishers Inc

Publication Date:

01/08/2017

Category:

ISBN:

9781536122497