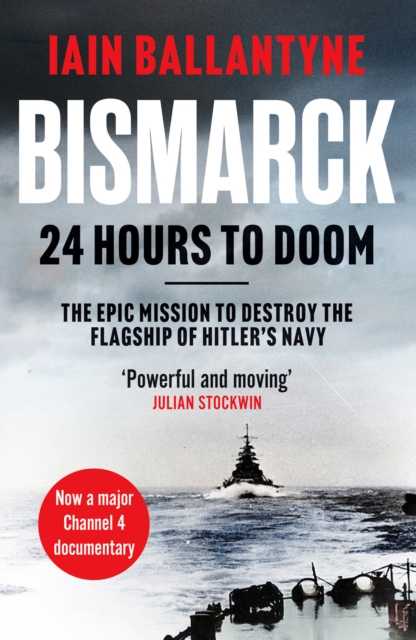 Bismarck: 24 Hours to Doom
Paperback / softback
Information

Description

Other Formats
Description
Now a major television documentary (Channel 4, 2021)The epic mission to destroy Hitler's flagship.'Bismarck was now loose in the Atlantic ... we had to find and sink her.'May, 1941. The most powerful battleship the world has ever seen, the German Navy's Bismarck, breaks out into the Atlantic to ravage Allied convoys.
Together with the heavy cruiser Prinz Eugen, the Bismarck will seek to deliver a killer blow to Britain's war effort. The British launch an all-or-nothing bid to sink her, with the Home Fleet and other naval units steaming hard from all points of the compass, straining every sinew to trap and destroy Bismarck.
HMS Hood, the battlecruiser pride of the Royal Navy, is destroyed within eight minutes of engaging Bismarck on 24 May.
However, the brand new battleship HMS Prince of Wales lands a pivotal blow on Bismarck, puncturing a fuel tank, forcing the German battleship to make for refuge in a friendly port. Reeling from the loss of the Hood, the Royal Navy redoubles its efforts, intent on avenging lost shipmates.
Aircraft carrier Ark Royal, along with battleships King George V and Rodney, plus cruisers and destroyers, are among those who hunt and pursue the foe over more than 1,700 miles. This is the story of Bismarck's fateful final twenty-four hours on 26/27 May 1941: the finale of the hunt and the culminating brutal close-quarters battle as Bismarck makes a desperate bid to escape the enemy. Using eyewitness accounts of Royal Navy sailors, Royal Marines and Swordfish torpedo-bomber aviators - including searing testimony gleaned by the author during unique interviews with a 'band of brothers' who were in the thick of the action - Ballantyne brings one of the Second World War's most dramatic events thundering to life.
He also draws on new research in museum archives and other accounts from both the British and German side, to present a multi-dimensional, cinematic telling of a legendary episode in naval combat history. An epic story, told with compelling immediacy, it takes readers aboard warships in unforgiving seas, into the cockpits of warplanes in shrapnel-lashed skies and even inside a U-boat under a cruel ocean.
Perfect for readers of Richard Hough and Saul David. Praise for Bismarck: 24 Hours to Doom 'A powerful and moving cinematic study devoted to what has to be the most dramatic event of the Second World War at sea'Julian Stockwin, author of the Thomas Kydd series of naval adventures'By drawing on the first-hand experiences of veterans in the thick of the action, Iain Ballantyne has produced a deeply researched and unputdownable account of the hunt for the Bismarck that is at once authoritative, insightful and highly readable'Rowland White, author of Harrier 809 and Vulcan 607
Information
Format:

Paperback / softback

Pages:

288 pages

Publisher:

Canelo

Publication Date:

16/03/2023

Category:

ISBN:

9781804363409
Information
Format:

Paperback / softback

Pages:

288 pages

Publisher:

Canelo

Publication Date:

16/03/2023

Category:

ISBN:

9781804363409