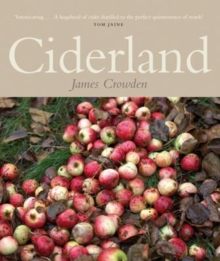 Description
The West Country is justly famous for its wide variety of delicious ciders.
Over the last thirty years there has been a quiet revolution in the area with a steady growth in cider producers, from small, local companies to well-established outfits pumping out millions of gallons a year.
In this book, James Crowden charts the development of cider making in the West Country, from the sixteenth century monks to the diverse industry of today.
Crowden takes us on a tour around the beautiful and fragrant West Country orchards, outlining the differing manufacturing methods, and investigates the differences between a farm-house cider and an industrially manufactured one.He shows how the best cider makers translate their passion into the process and treat each different batch of cider like winemakers would a vintage.
He also takes a look at the rise of perry making and profiles the companies dedicated to getting the best out of the West Country pears. "Ciderland" includes comprehensive summaries and descriptions of every cider and cider producer in the West Country and covers topics such as cider folk traditions and remedies, placing cider making firmly within the local culture.
Free
Standard Delivery

Within the UK