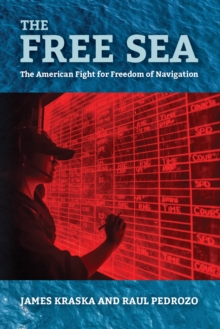 The Free Sea : The American Fight for Freedom of Navigation
Hardback
Description
This book explores the major episodes in American history affecting U.S. freedom of navigation. Beginning with the Quasi-War with France in 1798, the Barbary Wars and the War of 1812 in the early 19th century, the struggle for freedom of the seas was the first major foreign policy challenge facing the United States.
Likewise, Germany's unrestricted submarine warfare against neutral U.S. proved the decisive factor that brought the United States into World War I.
President Truman championed a post-warorder that was based on freedom of the seas for all nations, which was once again tested by Germany during World War II and then embedded in the Charter of the United Nations. Since World War II, the struggle for freedom of navigation has pulled the United States to the brink of war with Vietnam during the Gulf of Tonkin incident, North Korea with the seizure of the USS Pueblo, and Cambodia, with the capture of the SS Mayaguez.
During the 1980s, Libya's ""line of death"" across the Gulf of Sidra andIran's ""tanker war"" in the Persian Gulf drew the United States into conflict.
The U.S. and Russian navies clashed over navigational rights in the Black Sea - an incident thatled to amicable agreement on the right of innocent passage.
Today China poses perhaps the greatest challenge to freedom of navigation since Germany's unrestrictedU-boat campaigns, as it seeks to eject U.S. naval forces from the South China Sea and East China Sea. Freedom of the seas is the foundation of all sea power.
Separated by the Atlantic and Pacific oceans from the centers of power in Europe and Asia, the United States hasrelied on the principles of freedom of navigation for economic prosperity and military security.
Yet some states have attempted to control or restrict U.S. warships and maritime commerce since the beginning of the nation, compelling the United States to vindicate its rights through diplomatic, legal and sometimes military means.
This book chronicles the major confrontations over freedom of navigation that span some 200 years, beginning with the Quasi-War with France in 1798 to the South China Sea today.
These cases underscore the need a renewal of strategic resolve to ensure freedom of navigation in the global maritime commons.
Information
Format:

Hardback

Pages:

432 pages

Publisher:

Naval Institute Press

Publication Date:

30/06/2018

Category: Military history
ISBN:

9781682471166
Free
Standard Delivery

Within the UK