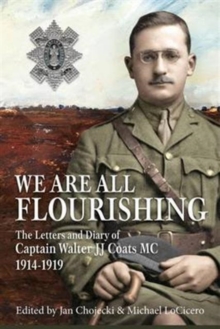 We are All Flourishing : The Letters and Diary of Captain Walter J J Coats MC 1914-1919
Hardback
Description
There have been moments during the last week or so when I had grave doubts as to whether I should see tomorrow'.
Compiled from the almost daily letters home and a diary written in the immediate aftermath of the First World War, We are all Flourishing is a remarkable first-hand account of one man's service during 1914-19.
Walter Coats was an officer with the 9th Highland Light Infantry (Glasgow Highlanders) - one of the first territorial battalions dispatched to the Western Front.
Anticipation builds from mobilisation in August 1914, through intensive training in and around Dunfermline, up to eventual embarkation for France the following November.
Sent into action, Walter describes winter days and nights in open trenches equipped with kilts and ordinary-issue footwear.
As battalion machine gun officer, he participated in the Battles of Neuve-Chapelle, Loos and Arras; the Third Battle of Ypres and the Somme - notably at High Wood in July 1916, where the Highlanders were almost wiped out, losing over 800 men killed, wounded and missing.
In between the big battles and line-holding in less active sectors, we hear tales of ordinary trench routine, training, sudden movements, billeting expeditions, billets and interactions with the local populace. Walter's story is also one of amusing anecdotes, descriptions of wartime entertainments and humorous verse that reflects how morale was maintained in times of unrelenting terror and occasional boredom.
In 1917, torn between battalion loyalty and a promise to his family to take on 'safer' employment, Walter is transferred to 100th Infantry Brigade Staff - his subsequent experience providing rare insights into a staff captain's life and responsibilities.
This part of his account also sheds new light on the mid-level command administration of the British Expeditionary Force and the consequent daily challenges that, more often than not, affected the life-or-death situations encountered on the battlefield.
While Walter's life was still fraught with personal danger and narrow escapes, his kindness and consideration to officers and men, love of family and dry sense of humour continue to shine through.
Walter's story is illustrated with an impressive array of images and maps.
Compiled and edited by his great-nephew, Jan Chojecki - and co-edited by military historian Michael LoCicero - We are all Flourishing is a comprehensive and moving work offering new and unique insights into life at the sharp end of conflict and on the Home front. Foreword by Alexander McCall Smith and dust jacket cover based on the painting "Across the Field" by Kurt Jackson. 'Walter Coats emerges from this narrative as one of the key chroniclers of the First World War: his letters home read as freshly as they would have done when his family received them all those years ago.
Shorn of hysterics or heroics Coats simply recorded what his battalion was experiencing and in so doing he reveals how he and his fellow Glasgow Highlanders responded to the peculiar miseries and excitements of life on the Western Front.
A more genuine and even-handed account would be difficult to find.' --Trevor Royle, member of the Scottish Government s advisory panel for commemorating the First World War and author of Flowers of the Forest: Scotland and the First World War
Information
Format:

Hardback

Pages:

288 pages, 50 photos

Publisher:

Helion & Company

Publication Date:

15/10/2016

ISBN:

9781911096399
Free
Standard Delivery

Within the UK