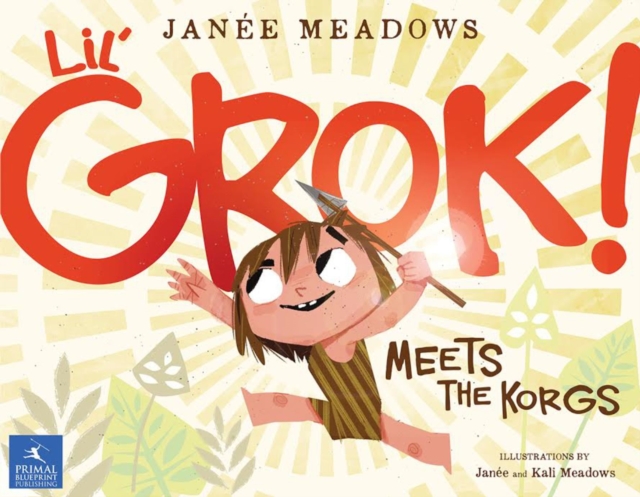 Lil' Grok Meets the Korgs
Paperback / softback
Description

Information

Other Formats
Description
Lil'GrokMeets TheKorgs is an epic tale of adventure based on MarkSisson'sbest-seller, The Primal Blueprint.
Lil'Grokis a cave boy digging life in the stone ageuntil a saber-toothed tiger gives chase.Grokdescends into a magical cave, and is propelled thousands of years into the future!
Luckily, he's scooped up by an archeologist named Mr.Korgwho's digging for artifacts in the middle of a bustling city park.
He takes Lil'Grokhome to meet the ultra-modern,hashtagging, pizza-loving,dessert-scarfingKorgfamily.
Unfortunately, Lil'Grokdoesn't seem to fit in at theKorgs, or anywhere else in modern life.
He squats to eat with his hands right on the table! He doesn't wear shoeshe crawls like a bearjumps like a catand starts food fights at school! And what kind of kid is allergic to pizza?! But when a tiger escapes from the zoo, it's Lil'Grokwho's the hero, and theKorgshave to adapt or get dropped.Grokshows theKorgs, and the entire town, that being a nimble, jungle-wise cave boy has its perks.
Kick off your shoes, relax into a squat, and introduce your favorite young reader into the world of Lil'Grokand theKorgs.
This hilarious journey might just endprimallyever after-and deliver some important life lessons along the way.
A perfect gift for hunters and gatherers of all ages, Lil'GrokMeets TheKorgs shows us how to trek through the modern world in our ancestor's footsteps so that we can lead happier, healthier, lives.Designed for hunter-gatherers ages 4-8.
Information
Format:

Paperback / softback

Pages:

44 pages, colour illus

Publisher:

Primal Nutrition, Inc

Publication Date:

01/03/2023

Category:

ISBN:

9781939563156
Information
Format:

Paperback / softback

Pages:

44 pages, colour illus

Publisher:

Primal Nutrition, Inc

Publication Date:

01/03/2023

Category:

ISBN:

9781939563156