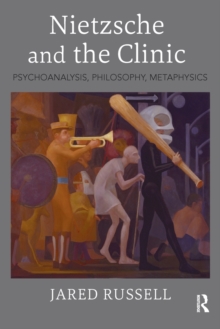 Nietzsche and the Clinic : Psychoanalysis, Philosophy, Metaphysics
Paperback / softback
Description
Nietzsche and the Clinic reimagines what a sustained engagement with Nietzsche's thinking has to offer psychoanalysis today.
Beyond the headlines that continue to misrepresent Nietzsche's project, this book portrays Nietzsche as a thinker of tremendous practical import for those treating the emergent pathologies of the twenty-first century with an interpretive approach.
The more pressing wager of the book is that, by introducing Nietzsche's thinking into contemporary debates about the nature and function of the psychoanalytic clinic, the future of that clinic can be better secured against attempts to discredit its claims to therapeutic efficacy and to scientific legitimacy.
Combining a close textual reading with examples drawn from concrete clinical practice, Nietzsche and the Clinic integrates philosophy and psychoanalysis in ways that move past a merely theoretical attitude, demonstrating how the relationship between philosophy and psychoanalysis can be expanded in ways that are both clinically specific and post-Freudian in orientation.
Chapters include extended meditations on Nietzsche's relation to key themes in the work of Helene Deutsch, Wilfred Bion, Melanie Klein, Donald Winnicott, and Jacques Lacan.
Free
Standard Delivery

Within the UK