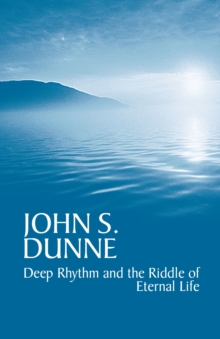 Deep Rhythm and the Riddle of Eternal Life
Paperback / softback
Description
In Deep Rhythm and the Riddle of Eternal Life, John S.
Dunne's twentieth book, he examines the end of earthly life and the prospect of eternal life.
He begins with two questions: Is death an event of life?
Is death lived through? If we answer yes to both questions, then we face "the riddle of eternal life." This book explores that riddle.
Dunne finds his answer in the Gospel of John, with its three great metaphors of life, light, and love.
Dunne contemplates the meaning of the metaphors in "deep rhythm," the deep rhythm of rest in the restlessness of the heart.
The words of eternal life in the Gospel speak of life and light and love but also of life passing through death, of light passing through darkness, of love passing through loneliness.
So, too, Christ, embodying life and light and love, passes through death and darkness and loneliness.
This deeply meditative book from one of our most gifted spiritual writers and teachers will offer consolation to those at the end of life as well as hope for all readers who contemplate eternal life.
A CD is included containing Dunne's "Symphony of Songs," with vocals by soprano Quinn Smith accompanied by John S.
Dunne on the piano. "Vintage John Dunne-for the uninitiated an invitation to enter the rhythms where words break into song; for those who know his work a journey joining him in the mantras of his meditations on the radiant circle of life, light, and love." -John T.
Noonan, Jr., Senior Judge on the United States Court of Appeals for the Ninth Circuit "Four decades after he first asked it, John Dunne here returns to his question, 'If I must die someday, what can I do to satisfy my desire to live?' No one can absorb this book without coming to share his hope born of the knowledge that is rooted in love." -Jon Nilson, Loyola University Chicago "In Deep Rhythm and the Riddle of Eternal Life, John Dunne focuses on eternal life, a question that has been central to his work.
The question is not simply, he says, 'Is there a life after death?' but, 'Is there a life in us that can live on through death?' In his unique but familiar way, Dunne blends explorations in theology, philosophy, literature, and music.
New in this book, however, is a compact disk of Dunne's music, 'A Symphony of Songs,' with the author playing the piano.
Although past volumes have included song lyrics and an occasional page of musical score, only now can most readers hear the music itself." -William J.
Collinge, Knott Professor of Theology, Mount St. Mary's University
Information
Format:

Paperback / softback

Pages:

160 pages

Publisher:

University of Notre Dame Press

Publication Date:

15/03/2008

Category: Theology
ISBN:

9780268025960
Free
Standard Delivery

Within the UK