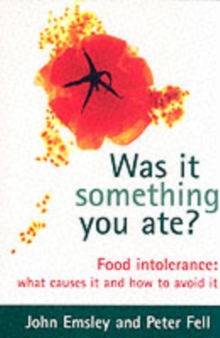 Was It Something You Ate? : Food Intolerance: What Causes It and How to Avoid It
Paperback
Description
From reviews of the hardback edition: '...explains the difference between food intolerance (which we can all suffer from) and food allergy (which is very rare). Throughout, there are case studies of people who have been badly affected by their diet, until the cause was identified. All the advice given in this book has been medically or scientifically substantiated.' Greenock Telegraph '...an excellent and well-written guide ...beautifully argued and solidly evidence-based ...illustrated throughout with case reports that add the spice of human interest ...a worthy addition to the kitchen cookbook shelf.' Times Higher Very few people are allergic to food, but most of us suffer adverse effects when we eat certain things. The reason is that our body is intolerant of particular chemicals, and it reacts to them as if we were being poisoned. We then experience a variety of symptoms such as stomach ache, headache, sweating, skin rashes, diarrhoea, palpitations, and vomiting. When several of these affect us at one time they are likely to indicate that we are suffering from food intolerance and this is what the book is all about. If we can identify which components of our diet are likely to cause intolerance, then we can make sure we don't take in too much at one meal and so provoke the body to react.
Human metabolism has developed to cope with small amounts of all kinds of non- nutrients in our food, even some that are highly toxic. What it cannot cope with are large amounts, and for sensitive people even relatively small amounts can trigger the body to over-react. This is why the same meal can affect people in different ways.
There are only a few common chemicals that can provoke an intolerance reaction: alcohol, benzoates, caffeine, dopamine, histamine, monosodium glutamate, nitrate/nitrite, phenylethylamine, salicylates, serotonin, solanine, sorbates, tryptamine/octopamine, and tyramine. The book examines the principal causes of food intolerance, explaining how this differs from food allergy, which few suffer from, and identifies the chemicals that cause it-many of which are natural-and the foods that contain them. It also reveals why food intolerance occurs, what its symptoms are, and why some people are so badly affected by a particular non- nutrient, while others suffer no upset at all. The book also contains chapters on natural toxins, and unnatural food additives and food contaminants. It explains the key nutrients in our diet and highlights the foods richest in the essential one that we may be lacking. Most of the chapters are devoted to a few key non-nutrients that account for the majority of cases of intolerance. Each section is illustrated with actual case notes from people who have been badly affected by their diet. The book ends on an upbeat note with a final chapter giving dietary advice for maintaining a healthy heart.
If you've ever wondered why something you eat does not agree with you, then this is the book that will help you discover what this is likely to be, and why your system reacts so badly to it. Written in an easy-to-understand style, Was It Something You Ate? will take you though all aspects of food, especially identifying those non-nutrients that provoke a toxic response and make us ill.
Information
Format:

Paperback

Pages:

190 pages, numerous tables

Publisher:

Oxford University Press

Publication Date:

16/08/2001

Category: Popular science
ISBN:

9780198509660
Free
Standard Delivery

Within the UK