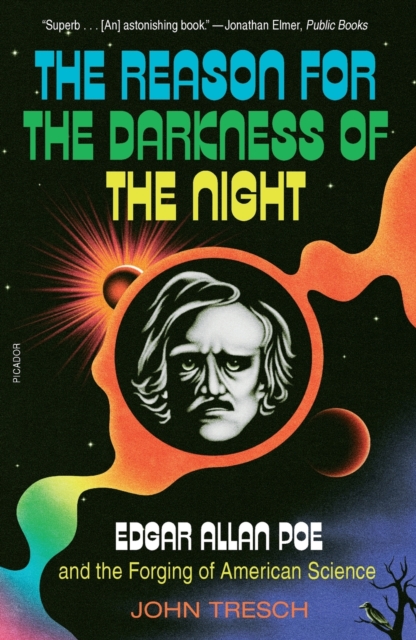 The Reason for the Darkness of the Night : Edgar Allan Poe and the Forging of American Science
Paperback / softback
Information

Description

Other Formats
Description
We all think we know Poe - the most popular American writer around the world, dissolute puzzle-maker, pioneer of detective fiction, and author of haunting, atmospheric verse.
But what if there was another side to the man who wrote "The Raven" and "The Fall of the House of Usher"?
What if Poe were as well known for his speculations about the birth of the universe or his "Sonnet - to Science"?In The Reason for the Darkness of the Night: Edgar Allan Poe and the Forging of American Science, John Tresch offers a bold new life of one of the nineteenth century's most iconic writers.
By shining a spotlight on a time when the line between speculative endeavors and scientific inquiry was blurred, Tresch reveals Poe to have been much more than a practitioner of science fiction - in fact, he was an avid commentator on scientific developments, publishing and circulating in literary milieux that also played host to lectures and demonstrations by the era's most prominent scientists, semi-scientists, and pseudo-intellectual rogues.
As one newspaper put it, "Mr. Poe is not merely a man of science - not merely a poet - not merely a man of letters.
He is all combined; and perhaps he is something more."Beginning with his study of mathematics and engineering at West Point, and taking us through the tumultuous years leading up to publication of "The Raven," Tresch shows that Poe nurtured a fascination with science from his earliest days as a writer.
In works such as "A Descent into the Maelstrom" and "Mesmeric Revelation," Poe explored subjects ranging from the physics of vortices to occult psychology, later turning his attention to the origins of the universe in a dazzling lecture that would win the admiration of Albert Einstein and other twentieth-century physicists.
Throughout, he lived and suffered for his ideas, and remained a figure of brilliant contradiction: he gleefully exposed the hoaxes of the era's pseudo-scientific fraudsters even as he perpetrated hoaxes himself.
Information
Format:

Paperback / softback

Pages:

448 pages, 60 Black-and-White Images in Text / Notes, Index

Publisher:

St Martin's Press

Publication Date:

04/10/2022

Category:

ISBN:

9781250849403
Information
Format:

Paperback / softback

Pages:

448 pages, 60 Black-and-White Images in Text / Notes, Index

Publisher:

St Martin's Press

Publication Date:

04/10/2022

Category:

ISBN:

9781250849403