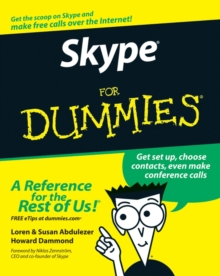 Skype for Dummies (Foreword By Niklas Zennstrom, Ceo and Co-founder of Skype)
Paperback
Description
See how to use Skype for secure chats and connect SkypeOut and SkypeIN.
Here's the fun and easy way (r) to understand all the hype about Skype and make this cool alternative communication system work for you!
You'll get great advice about hardware, directions for downloading and installing Skype, ideas for using Skype in your business, and the lowdown on making Skype calls to people with old-fashioned phones.
Discover how to: * Install Skype and start making calls * Create a contacts list * Set up voicemail and call forwarding * Use Skype for worldwide conference calls and Skypecasting * Enhance Skype with Bluetooth, Wi-Fi wireless, and video
Free
Standard Delivery

Within the UK