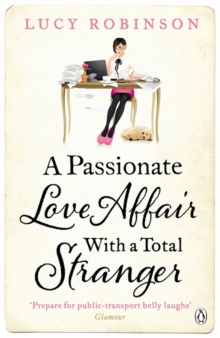 A Passionate Love Affair with a Total Stranger
Paperback
Description
A Passionate Love Affair with a Total Stranger by Lucy Robinson, author of The Greatest Love Story of All Time, is a hilariously funny and gorgeously romantic story about falling in love when you least expect it.
Charley Lambert has worked hard at creating a perfect life.
She has an aspirational flat, a job of international significance and a very good pair of legs, thanks to a rigorous health and fitness regime.
Best of all, her boss has asked her out after seven years' hard flirting and a covert fumble in a mop cupboard.
Then she breaks her leg in three places, watches her boss propose to someone else and - horror - is forced to hand over her job to her nasty deputy.
Charley, a certified workaholic, fears that she will go mad.
Dangerously bored, she starts helping people who are talentless at internet dating.
Then William arrives in her inbox and rocks her world.
Helpless, she watches herself fall in love with him and discovers she's not who she thought she was.
But can she turn her back on her old life - all for a total stranger?Laugh out loud and fall in love with Lucy Robinson's A Passionate Love Affair with a Total Stranger Praise for Lucy Robinson: 'Charmingly fun with bags of romance and laughs' Closer 'One of Britain's most talented rising stars' Huffington Post 'Refreshingly funny' Star 'Romantic and laugh-out-loud hilarious' Cosmopolitan 'Prepare for public-transport belly laughs' Glamour Lucy Robinson is the author of The Greatest Love Story of All Time, A Passionate Love Affair with a Total Stranger and The Unfinished Symphony of You and Me.
Lucy worked in theatre and then television documentaries before starting a blog for Marie Claire about her laughably unsuccessful foray into the world of online dating.
She did not meet a man during this time but she did become a novelist: every cloud has a silver lining.
She now lives in Bristol with her partner, The Man, whom she met when she took off to Buenos Aires to become a bohemian writer in 2010.
Twitter: @Lucy_Robinson Facebook: www.facebook.com/LucyRobinsonWriter Instagram: RobinsonWriter Website: www.lucy-robinson.co.uk
Information
Format:

Paperback

Pages:

464 pages

Publisher:

Penguin Books Ltd

Publication Date:

31/01/2013

ISBN:

9780718157661
Free
Standard Delivery

Within the UK