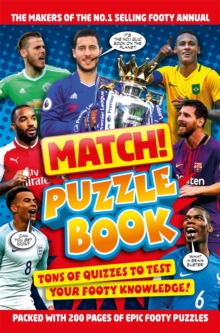 Description
Test your football knowledge with Match! Football Puzzles. Packed with brilliant footy puzzles from the makers of the UK's best football magazine!
Includes spot the difference puzzles, wordsearches, true or false puzzles, crosswords, wordfits, player and team quizzes, anagrams, transfer trackers, odd one out puzzles and loads more!Discover more footy fun in this awesome series, with MATCH!
Incredible Stats and Facts, MATCH! Joke Book, MATCH! Build Your Own Club and MATCH! England Football Heroes.
Free
Standard Delivery

Within the UK