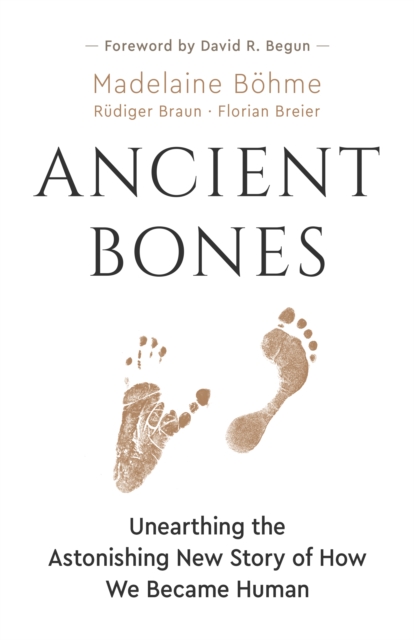 Ancient Bones : Unearthing the Astonishing New Story of How We Became Human
Paperback / softback
Information

Description

Other Formats
Description
"Splendid and important .... Scientifically rigorous and written with a clarity and candor that create a gripping tale ... [Boehme's] account of the history of Europe's lost apes is imbued with the sweat, grime, and triumph that is the lot of the fieldworker, and carries great authority."-Tim Flannery, The New York Review of BooksIn this "fascinating forensic inquiry into human origins" (Kirkus STARRED Review), a renowned paleontologist takes readers behind-the-scenes of one of the most groundbreaking archaeological digs in recent history. Somewhere west of Munich,paleontologist Madelaine Boehme and her colleagues dig for clues to the origins of humankind.
What they discover is beyond anything they ever imagined: the twelve-million-year-old bones of Danuvius guggenmosi make headlines around the world.
This ancient ape defies prevailing theories of human history-his skeletal adaptations suggest a new common ancestor between apes and humans, one that dwelled in Europe, not Africa.
Might the great apes that traveled from Africa to Europe before Danuvius's time be the key to understanding our own origins?
All this and more is explored in Ancient Bones. Using her expertise as a paleoclimatologist and paleontologist, Boehme pieces together an awe-inspiring picture of great apes that crossed land bridges from Africa to Europe millions of years ago, evolving in response to the challenging conditions they found.
She also takes us behind the scenes of her research, introducing us to former theories of human evolution (complete with helpful maps and diagrams), and walks us through musty museum overflow storage where she finds forgotten fossils with yellowed labels, before taking us along to the momentous dig where she and the team unearthed Danuvius guggenmosi himself-and the incredible reverberations his discovery caused around the world. Praise for Ancient Bones:"Readable and thought-provoking.
Madelaine Boehme is an iconoclast whose fossil discoveries have challenged long-standing ideas on the origins of the ancestors of apes and humans."-Steve Brusatte, New York Times-bestselling author of The Rise and Fall of the Dinosaurs"An inherently fascinating, impressively informative, and exceptionally thought-provoking read."-Midwest Book Review"An impressive introduction to the burgeoning recalibration of paleoanthropology."-Kirkus Reviews(starred review)
Information
Format:

Paperback / softback

Pages:

376 pages, 8-page color insert, maps and diagrams throughout

Publisher:

Greystone Books,Canada

Publication Date:

15/10/2022

Category:

ISBN:

9781778400315
Information
Format:

Paperback / softback

Pages:

376 pages, 8-page color insert, maps and diagrams throughout

Publisher:

Greystone Books,Canada

Publication Date:

15/10/2022

Category:

ISBN:

9781778400315