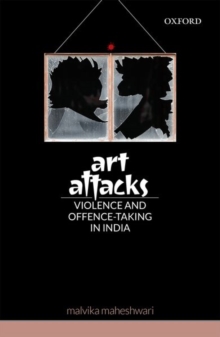 Art Attacks : Violence and Offence-Taking in India
Hardback
Description
Since the end of the 1980s in India, self-styled representatives of a variety of ascriptive groups (religious, caste, regional, and linguistic among others) have come to routinely damage artwork, disrupt their exhibition, and threaten and assault artists and their supporters.
Often, these acts are said to be a protest against the allegedly 'hurtful' or 'offensive' artworks.
They are even claimed to be a prescient call to save the identity of the community, in amanner that makes the communal identities hinge entirely on that artistic (mis)representation.
Yet, at the time of these attacks, many who indulge in this kind of violence have seldom heard of the artist before or even seen, read, watched, let alone engaged with the artwork.
Such is the wrench on theright to freedom of speech and expression in general, and on the physical safety and security of artists in particular, that has inspired fear, anger, and discomfort within the art world, marked by ominous declarations of a 'cultural emergency' owing to the loss of lives and property, and without the due processes of law-a consequence that was hardly synonymous with art practice in India, at least until a few decades ago. This book tells the story of violence against artists in India, marked by the intensifying sense of insecurity, fear, frustration and anger within the art world.
But to bring out its complexities-to build an analytical account for understanding what such destructive and, even competitive, attacks on artists convey about India's liberal democracy, given that violence in its many avatars has not so much been an aberration to the form of India's liberal democracy as much as its very condition-thebook attempts to map the concrete political transformations that have informed its dynamic unfolding.
In other words, as opposed to simply adding to the prevalent commentaries on violent regulation of free speech in India, this work focuses on the dynamics of violence in that regulation.
Based onextensive interactions with assailants and artists, I argue that these attacks are not simply 'anti-democratic.' But are dependent in perverse ways on the very logics of democracy's functioning, as much they are contained by it, along with the wider material conditions that have prevented both free speech in India, and India at large, from being immutably locked in a downward spiral.
Information
Format:

Hardback

Pages:

376 pages

Publisher:

OUP India

Publication Date:

15/01/2019

Category: Art treatments & subjects
ISBN:

9780199488841
Free
Standard Delivery

Within the UK