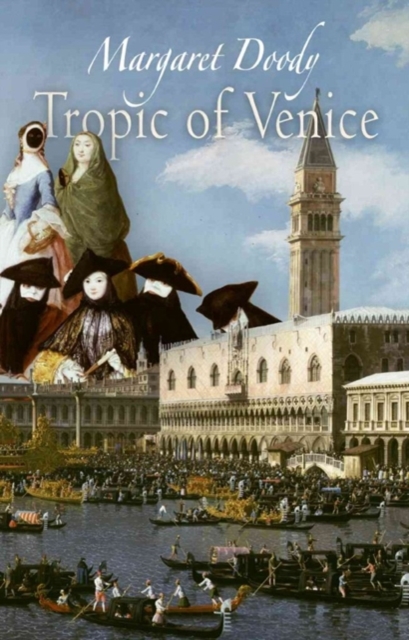 Tropic of Venice
Hardback
Description

Information

Other Formats
Description
Named one of the "Big Ten Outstanding Books from University Presses for 2006" by ForeWord magazineFor Margaret Doody, Venice, poised between East and West, earth and sea, sacred and profane, occupies a place only its own.
Appearances confound. Renaissance ladies achieved their blond beauty by crimping and dyeing their hair in urine.
The richly ornamented facades of its buildings mask lighter structures based on wood pilings ultimately floating on clay and water.
Marble is intimate with mud. In Doody's Venice, the holy is never far from the sensual, the earthy and carnal.
Though the city's patron is one of the four Evangelists, enshrined in the glorious basilica that bears his name, she reminds us that according to legend the body of Saint Mark was transported to Venice hidden in a mound of pork. With a novelist's eye for quirky anecdote and rich detail, with a connoisseur's eye for the secrets hidden in the cut of a sleeve or the corner of a painting, Doody summons the Venice of Carpaccio, Titian, and Canaletto, of Goldoni and Casanova.
She draws on comments from the myriad travelers, contented or grumbling, from the Middle Ages to the present, men and women who have by turns been seduced and disturbed by the city.
If she is hard-pressed to find a single golden age in Venetian history, she has no difficulty in locating the city's low point in the tragic nineteenth century.
When the once proudly independent republic fell to a foreign power, its joy largely ceased, and it became the melancholy and somewhat sinister place evoked in the writings of Byron, George Sand, Gautier, Dickens, and others.
Venice as death's city persists into the twentieth century in the works of Henry James and Thomas Mann.
Only in the twenty-first century, she suggests, might we escape that dark nineteenth-century vision of a city once associated with glowing color and joyful music. Bride of the Adriatic, a city of golden light and shimmering reflection rising out of seaweed and slime, Venice has long held travelers and dreamers, rogues, painters, and writers in its sway.
Why are we so drawn to the place? What would be lost were Venice to cease to exist? In Tropic of Venice Doody explores the multiple ways in which this is a perturbingly exciting and unique city-and a place that simultaneously unsettles and reveals many of our most deeply rooted cultural values.
Information
Format:

Hardback

Pages:

374 pages, 13 color, 26 b/w illus.

Publisher:

University of Pennsylvania Press

Publication Date:

01/02/2007

Category:

ISBN:

9780812239843
Information
Format:

Hardback

Pages:

374 pages, 13 color, 26 b/w illus.

Publisher:

University of Pennsylvania Press

Publication Date:

01/02/2007

Category:

ISBN:

9780812239843