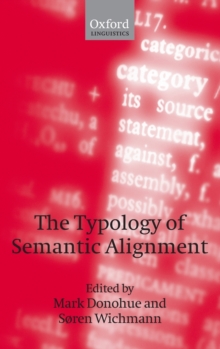 The Typology of Semantic Alignment
Hardback
Description
Semantic alignment refers to a type of language that has two means of morphosyntactically encoding the arguments of intransitive predicates, typically treating these as an agent or as a patient of a transitive predicate, or else by a means of a treatment that varies according to lexical aspect.
This collection of new typological and case studies is the first book-length investigation of semantically aligned languages for three decades.
Leading internationaltypologists explore the differences and commonalities of languages with semantic alignment systems and compare the structure of these languages to languages without them.
They look at how such systems arise or disappear and provide areal overviews of Eurasia, the Americas, and the south-west Pacific, theareas where semantically aligned languages are concentrated.
This book will interest typological and historical linguists at graduate level and above.
Free
Standard Delivery

Within the UK