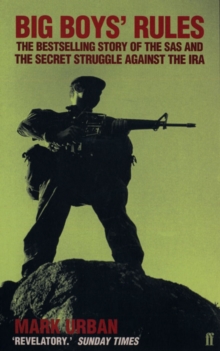 Big Boys' Rules : The SAS and the Secret Struggle Against the IRA
Paperback / softback
Description
The SAS describes its attitude to the use of lethal force as 'Big boys' games, big boys' rules'.
Anyone caught with a gun or bomb can expect to be shot.
In Big Boys' Rules: The SAS and the Secret Struggle Against the IRA Mark Urban meticulously explores the security forces' covert operations in Northern Ireland: from the mid-1970s, when they were stepped up, to the Loughall ambush in 1987, in which eight IRA Provisionals were killed.
While charting the successes and failures of special operations during the troubles, Urban reveals the unenviable dilemmas faced by intelligence chiefs engaged in a daily struggle against one of the world's most sophisticated terrorist organisations. 'This is a book that needed to be written and which fulfils the essentials of any Ulster story; it expands understanding beyond fragmented jingoism and newspaper headlines.' John Stalker, Sunday Times
Free
Standard Delivery

Within the UK