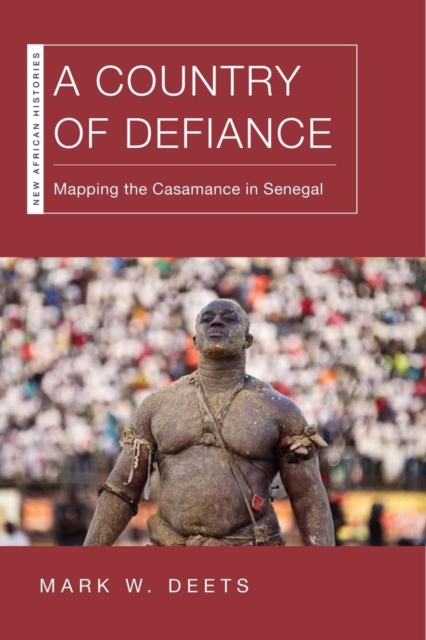 A Country of Defiance : Mapping the Casamance in Senegal
Description

Information

Other Formats
Description
A historiographical analysis of human geography and a social history of nationalist separatism and cultural identity in southern Senegal. This book is a spatial history of the conflict in Casamance, the portion of Senegal located south of The Gambia.
Mark W. Deets traces the origins of the conflict back to the start of the colonial period in a select group of contested spaces and places where the seeds of nationalism and separatism took root.
Each chapter examines the development of a different piece of the still unrealized Casamançais nation: river, rice field, forest, school, and stadium.
Each of these locations forms a spatial discourse of grievance that transformed space into place, rendering a separatist nation from the pieces where a particular Casamançais identity emerged.
However, not every Casamançais identified with these spaces and places in the same way.
Many refused to tie their beloved culture and landscape to the project of separatism, revealing a layer of counter-mapping below that of the separatist leaders like Father Augustin Diamacoune Senghor and Mamadou "Nkrumah" Sané. The Casamance conflict began on December 26, 1982.
After an oath-taking ceremony in a sacred forest on the edge of Ziguinchor, hundreds of separatists from the Movement of Democratic Forces of the Casamance (MFDC) marched into the town to remove the Senegalese flag in front of the regional governor's office and replace it with a white flag.
The marchers were met by gendarmes who quickly found themselves outnumbered.
Government surveillance, arrests, and interrogations followed into the next year, when gendarmes went to the sacred forest to stop another MFDC meeting.
This time, the separatists greeted the gendarmes with a burst of violence that left four dead, their bodies mutilated.
Senegalese security responded with force, driving the separatists—armed only with improvised rifles, bows and arrows, and machetes—into the forest.
The Casamance conflict continues to the present day, so far having left more than five thousand dead, four hundred killed or maimed by land mines, and another eight hundred thousand living in a state of insecurity, with limited possibility for economic development. Ordinary Casamançais—on the Casamance River, in the rice fields, in the forests, in the schools, and in the sports stadiums—have demonstrated a diversity of opinions about the separatist project.
Whether by the Senegalese state or by the separatists, these ordinary Casamançais have refused to be mapped.
They have made the Casamance "a country of defiance."
Information
Format:

Pages:

312 pages

Publisher:

Ohio University Press

Publication Date:

07/11/2023

Category:

ISBN:

9780821426005
Information
Format:

Pages:

312 pages

Publisher:

Ohio University Press

Publication Date:

07/11/2023

Category:

ISBN:

9780821426005