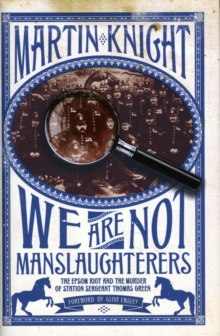 We Are Not Manslaughterers
Hardback
Description
Derby Day 1919 was a day of celebration, it being the first Derby Stakes to be run in Epsom since the First World War.
The return of the world's most famous horse race to its rightful home was a sure sign that life was returning to normal.
With the card finished and Grand Parade the 33-1 victor, the masses streamed home and the town's pavements and pubs were left once again in peace.
Yet only 15 days later 12 Epsom policemen found themselves defending their quiet station against a 400-strong rioting mob in a vicious hour-long battle.
By the end many were injured and the dependable Sergeant Thomas Green lay dead from vicious blow with a bar torn from the station's own police cell.
However, the rioters were not drunken revellers or incensed locals: they were Canadian soldiers, many of whom had seen action in France and Belgium, bent on releasing their comrades, arrested earlier in the evening following a minor disturbance in one of the town's pubs.
The murder of a gallant policeman was as momentous an event then as it would be now.
Yet the media coverage was relatively subdued, public outrage contained and the path to justice tightly managed.
No indictment for murder was ever made. Charges against five Canadians were reduced from manslaughter to riotous assembly and the defendants had been arrested, tried, sentenced, imprisoned, released and sent home before the year was out.
This book traces the events of 17 June 1919 and explores the reasons why the Government was so keen not to allow the case to become a cause celebre.
Future King Edward VIII was scheduled to tour the colonies, including Canada, to thank them for their extraordinary sacrifices in World War One.
To do this while Canadian soldiers were being hung in prisons across Britain did not bear contemplation.
Former, future and incumbent Prime Ministers Lord Rosebery, Winston Churchill and David Lloyd-George are among the historical figures who were faced with the murder's potential fall-out; the worst-case scenario being the disintegration of the British Empire.
Justice was not done for Sgt Green, and even his murderer concurred with this. Subsequent twists and turns include the two daughters of Sgt Green emigrating to Canada, a confession to the murder ten years later and a backdrop of venereal disease, as well as a new strand to the story that has never been publicly connected, all of which explains even more why the authorities were so keen to bury this case.
Information
Format:

Hardback

Pages:

304 pages, 16 pages colour

Publisher:

Tonto Books

Publication Date:

30/09/2010

Category: True crime
ISBN:

9781907183140
Free
Standard Delivery

Within the UK