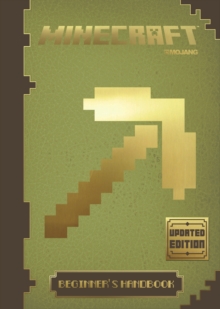 Minecraft: Beginner's Handbook - Updated Edition : An Official Minecraft Book from Mojang
Hardback
Description
Check out the brand new series of official Guides. The first four titles in the series, Guide to Exploration, Guide to Creative, Guide to Redstone and Guide to the Nether and the End, publish in 2017. Minecraft is a multi-platform block-based gaming sensation available on Xbox, PlayStation, PC and mobile devices.
Whether you're in Creative, Survival or Hardcore Mode, the Minecraft books contain all the advice you need to survive and thrive!Every Minecrafter's journey should begin with the Minecraft Beginner's Handbook, your indispensable guide to conquering the Overworld.
With only ten minutes of daylight you will need to find all the resources you can before darkness falls, the monsters will come looking for you. But never fear - this Handbook will teach you how to protect yourself from monsters.
You'll also get practical advice on how to find resources, make a bed, and mine for rare ores.
It also includes exclusive interviews with Minecraft creator Notch and developer Jens Bergensten. This handbook is perfect for Minecrafters aged 9 upwards. In the perilous world of Minecraft, this Handbook might just save your life!Collect all of the official Minecraft series to become the best Minecrafter you can be:Minecraft Guide to CreativeMinecraft Guide to ExplorationMinecraft: Beginner's Handbook,Minecraft: Combat Handbook,Minecraft: Construction Handbook,Minecraft: Redstone Handbook,Minecraft: Blockopedia,Minecraft: Exploded Builds: Medieval Fortress,Minecraft: The Survivors' Book of Secrets
Free
Standard Delivery

Within the UK