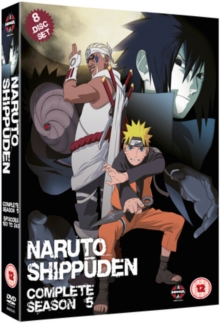 Naruto - Shippuden: Complete Series 5
DVD
Information

Description

Other Formats
Description
Episodes 193-243 of the 'Naruto' anime spin-off series.
A trio of young ninjas, Naruto (voice of Junko Takeuchi), Sasuke (Noriaki Sugiyama) and Sakura (Chie Nakamura), are schooled together in the village hidden in the leaves.
Each desires to become a ninja for different reasons and will face his or her own personal battles along the way.
The episodes are: 'The Man Who Died Twice', 'The Worst Three-Legged Race', 'Team 10's Teamwork', 'Drive Towards Darkness', 'The Sixth Hokage Danzo', 'Five Kage Summit's Eve', 'Enter the Five Kage!', 'Naruto's Plea', 'Painful Decision', 'Racing Lightning', 'Sasuke's Ninja Way', 'Power of the Five Kage', 'Declaration of War', 'Sakura's Feelings', 'The Tailed Beast Vs the Tailless Tailed Beast', 'As One's Friend', 'Danzo's Right Arm', 'The Forbidden Visual Jutsu', 'Danzo Shimura', 'Sakura's Resolve', 'Lost Bonds', 'The Burden', 'Two Fates', 'High-Level Shinobi', 'The Infiltrator', 'The Five Great Nations Mobilize', 'Kakashi Hatake, the Hokage', 'Prophecy of the Great Lord Elder', 'Storage', 'The Five Kage's Decision', 'The Young Man and the Sea', 'The Ninja of Benisu', 'The Cursed Ghost Ship', 'Battleship Island', 'The Forgotten Island', 'Fight!
Rock Lee!', 'Eat or Die! Mushrooms from Hell!', 'Revenge of the Shadow Clones', 'The Closed Route', 'The Girls' Get-Together', 'Naruto's Imposter', 'Naruto's Favorite Pupil', 'The Kunoichi of Nadeshiko Village', 'Friends You Can Count On', 'Ah, My Hero Lady Tsunade!', 'Sai's Day Off', 'The Legendary Ino-Shika-Cho', 'Kiba's Determination', 'Kakashi, My Eternal Rival!', 'Naruto's Vow' and 'Land Ahoy!
Is This the Paradise Island?'.
Information
Format:

DVD

Region:

2

Certification:

(12)

EAN:

5022366554541

Catalogue number:

MANG5545

Studio:

Manga Entertainment

Release date:

13/04/2015

Genre:

Unclassified

Colour:

Colour