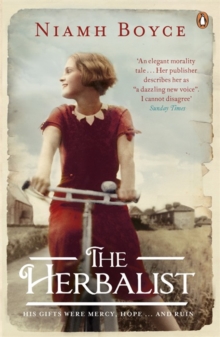 Description
'The most entertaining yet substantial historical novel since Joseph O'Connor's Star of the Sea' Irish TimesThe Herbalist is the electrifying first novel from Niamh Boyce, winner of the 2012 Hennesssy XO Award for New Irish Writing. it is a devastating and emotional story of yearning and obsession in 1930s rural Ireland.Out of nowhere the herbalist appears and sets up his stall in the market square.
Teenager Emily is spellbound by the exotic stranger - here is a man of the world who won't care that she's not respectable.However, Emily has competition for the herbalist's attentions.
It seems the women of her small town are all mesmerized by the visitor who, they say, can perform miracles.When Emily discovers the miracle-worker's dark side, her world turns upside down.
She may be naive, but she has a fierce sense of right and wrong.
With his fate lying in her hands, Emily must make the biggest decision of her young life.
To make the herbalist pay for his sins against the women of the town? Or let him escape to cast his spell on another place?'An elegant morality tale about the inescapable strictures of women's lives ...
Her publisher describes her as "a dazzling new voice".
I cannot disagree' Sunday Times'A vividly imagined tale of love, lust and longing ... a compelling read with a cathartic ending that deserves a wide readership.
It remains authentic and moving to the end' Sunday Business Post'Boyce's subject matter may be dark, and she treats it with the seriousness it deserves, but she writes with a lightness of touch not often seen in the genre ... just as the readers of The Herbalist share the women's fear as we read, we share their wonder and excitement as well ... hugely impressive and wonderfully assured' Irish Times'There's a lot going on that is slowly revealed and the writing is beautiful ...
A serious new literary talent' TV3'I read The Herbalist with great pleasure.
The characters jump alive from the page and I had to read fast to find out what happened, totally gripped.' Patricia Ferguson, author of The Midwife's Daughter'Comparisons to Edna O'Brien and Pat McCabe are more than justified.
That said, Boyce has a unique voice and sensibility, one that's entirely her own.' Image'A powerful plot full of betrayal, morality and love ...
Not only is this a book that will keep you captivated, it will remain with you long after you've read the last words and closed the cover' Country Living'She has a real lightness of touch and it's a wonderfully told story' Marian Finucane, RTE'Fascinating and revealing ...
I suffered, raged and celebrated with the exceptionally well developed characters and cancelled all engagements in order to finish the book' Goodreads.com'A riveting story that electrifies and dazzles' Writing.ie'Niamh Boyce's compelling female characters push against the rigid social parameters of 1930s Ireland, yearning for the light of the outside world, which comes in the shape of a stranger trading in herbs, cures, complications and danger.' Dermot Bolger'The book is packed with emotion.
I wasn't far in on the night I found myself an emotional wreck, sobbing my heart out and needing to put the book away.
It didn't stay away for long, I was hooked and I needed more.' Afterthefinalchapters.comNiamh Boyce's background is in visual arts and she now works as a librarian.
She started writing just four years ago. She lives in the Irish midlands with her family.
Information
Format:

Paperback

Pages:

320 pages

Publisher:

Penguin Books Ltd

Publication Date:

26/09/2013

ISBN:

9780241964583
Free
Standard Delivery

Within the UK