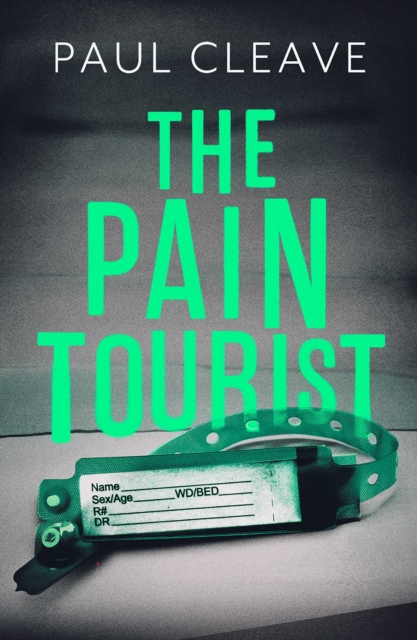 The Pain Tourist : The nerve-jangling, compulsive bestselling thriller Paul Cleave
Paperback / softback
Information

Description

Other Formats
Description
A young man wakes from a coma to find himself targeted by the men who killed his parents, while someone is impersonating a notorious New Zealand serial killer ... the latest chilling, nerve-shredding, twisty thriller from the author of The Quiet People... 'Paul Cleave is an automatic must-read for me' Lee Child 'Riveting from start to finish.
Smart and twisty, this book will get under your skin' Liz Nugent 'Shocking and chilling.
A literary ice plunge. I absolutely loved it' Helen Fields 'Almost three books in one!
Multiple murders, dedicated detectives - past and present.
Complex, detailed and oh, so clever' Sam Holland _______________How do you catch a killer... When the only evidence is a dream? James Garrett was critically injured when he was shot following his parents' execution, and no one expected him to waken from a deep, traumatic coma.
When he does, nine years later, Detective Inspector Rebecca Kent is tasked with closing the case that her now retired colleague, Theodore Tate, failed to solve all those years ago. But between that, and hunting for Copy Joe - a murderer on a spree, who's imitating Christchurch's most notorious serial killer - she's going to need Tate's help.
Especially when they learn that James has lived out another life in his nine-year coma, and there are things he couldn't possibly know, including the fact that Copy Joe isn't the only serial killer in town... _______________ 'An absolute thrill ride. Precise and swift and a joy to read ... storytelling at its best' James Oswald 'Such a unique concept, with wonderful, emotional writing ...
I hooked on the story from the word go. BRILLIANT' Lisa Hall 'The most original and intense thriller ever!' Michael Wood 'I'd forgotten how good Paul Cleave is!' Sarah Pinborough 'You can't be a true fan of crime fiction if you're not reading Cleave's books' Tom Wood 'Uses words as lethal weapons' New York Times 'Cleave writes the kind of dark, intense thrillers that I never want to end' Simon Kernick What readers are saying... [FIVE STARS] 'A masterpiece' Cafe Thinking 'A heart-pounding, jaw-dropping thrill ride' Emma's Bibliotreasures 'A brilliantly executed thrilling, twisty, nerve-shredding serial-killer chiller' Live & Deadly 'A red-hot, sleep-stealing, pulse-pounding read' Jen Med's Book Reviews 'An addictive trip!' The First Eleven Minutes 'I am absolutely lost for words' PRDG Reads 'Number-one TOP read of the year' Ian Dixon 'Cleave has made my heart pound, pulse race and jaw drop' Little Miss Book LoverPraise for Paul Cleave 'The sense of dread builds unstoppably in this gripping page-turner ... an intense, chilling read' Gilly Macmillan 'You may think you know where it's going, but you couldn't be more wrong.
A true page-turner filled with dread, rage, doubt and more twists than the Remutaka Pass' Linwood Barclay 'A true page-turner, with an intriguing premise, a rollercoaster plot and a cast of believably flawed characters' Guardian 'This merits comparison with the work of Patricia Highsmith' Publishers Weekly STARRED REVIEW 'Tense, thrilling, touching.
Paul Cleave is very good indeed' John Connolly 'An intense adrenaline rush from start to finish' S J Watson 'A riveting and all too realistic thriller' Tess Gerritsen 'A gripping thriller ...I couldn't put it down' Meg Gardiner 'Did my head in time and again' Michael Robotham 'One to remember' New York Journal of Book
Information
Format:

Paperback / softback

Pages:

300 pages

Publisher:

Orenda Books

Publication Date:

10/11/2022

Category:

ISBN:

9781914585487
Information
Format:

Paperback / softback

Pages:

300 pages

Publisher:

Orenda Books

Publication Date:

10/11/2022

Category:

ISBN:

9781914585487