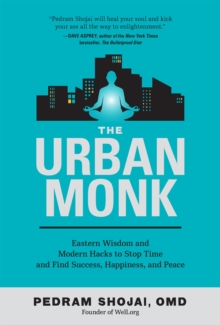 Description
We all struggle to discover satisfaction and contentment in the modern world and yet the more gadgets we buy, the more things seem to get worse.
What are we all missing? What will it take for us to find our centers? Pedram Shojai shares how the centeredness and calm of Zen masters is attainable in today's fast-paced world and guides readers to become "urban monks," who interact with demanding careers, families, and environments in a grounded way.
Based on a lifetime of study, The Urban Monk uses Eastern medicine techniques (such as meditation) to help readers overcome a variety of painpoints, such as stress, fatigue, weight gain, negative self-image, and loneliness.
Free
Standard Delivery

Within the UK