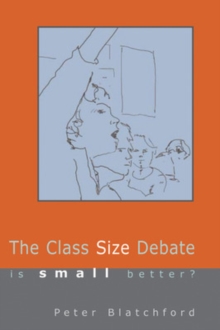 THE CLASS SIZE DEBATE
Paperback / softback
Description
"This is a very important book which may become a classic.
The research study is remarkable in its magnitude, breadth and duration.... it is described in a form accessible to practitioners and policy makers."- Professor Jeremy D.
Finn, State University of New York at Buffalo, USA"This fascinating book is one that should be compulsory reading for student teachers...
It also provides challenge and insight for experienced teachers. ...a stimulating source of evidence which will challenge people to consider their own approaches and what might constitute good practice. ...an important contribution to the class size debate." - Inservice JournalOne of the most important debates in education in recent years has been about the effects of class size differences in schools.
This book provides the most complete analysis to date of the educational consequences of class size differences, and sets out to solve the puzzling gap between professional experience and research findings.This book: Examines results from a pioneering research project of international significance, unique in its scale and methodology Investigates the relationships between class size and pupil achievements by detailed examination of classroom processes Considers the view that small classes provide better teaching and learning, and why this is not supported by past research findings Identifies implications for policy at government, LEA and school level, teacher education and professional development Indicates implications for practice - maximising opportunities of small classes and minimising problems in large classes.
Written in an accessible style and drawing upon examples from classroom life, this book is important reading for student and practising primary school teachers, M.Ed and doctoral students, teacher educators, researchers and policymakers.
Free
Standard Delivery

Within the UK