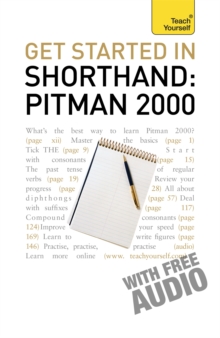 Get Started In Shorthand: Pitman 2000 : Master the basics of shorthand: a beginner's introduction to Pitman 2000
Paperback
Description
Is this the right book for me?Gain a working vocabulary in Pitman 2000 in clear and easy stagesShorthand is a valuable asset to everyone, young or old, in private or business life and Pitman 2000 is a system designed for easy learning, with a speed potential to meet the demands of a modern fast-moving world.
Get Started in Shorthand: Pitman 2000 is a beginner's guide to the basic theory and will give you a working vocabulary in Pitman 2000 in clear and easy stages.Each of the main sections contains a new set of sounds and rules, short forms, phrases and exercises, including audio exercises on an accompanying CD.
Review exercises give you the opportunity to consolidate material already covered, and a key to the exercises enable you to measure your rate of progress throughout the book.
Written to make self-tuition both simple and stimulating and based on original Pitman Publishing material, this authoritative book is indispensable to anyone seeking a first or refresher course in Pitman 2000.Get Started in Shorthand: Pitman 2000 includes:Chapter 1: Basic strokesConsonantsVowelsPosition of outlinesCircle SSES circleThe suffix -INGTick THEPunctuationChapter 2: Consonants and vowelsSeven more consonantsStroke SPast tense of regular verbsThe consonant RUnstressed vowelsChapter 3: Halving strokesHalving to add THalving to add DWhen not to halveChapter 4: Common combinationsThe L hookThe final syllables -TL or -DLL hook with circle SPlural -INGSChapter 5: Third-place vowelsDotsDashesChapter 6: Complex vowel soundsDipthongsTriphonesSES circleChapter 7: S and T in combinationsThe ST loopThe -STER loopM and N with a following T or DS and ZDiphonesZHHChapter 8: The R hookR hook on straight strokesStress rulesChapter 9: Hook NFinal hook N to curved strokesFinal N hook to straight strokesChapter 10: Suffixes and compoundsSuffixesCompound consonantsChapter 11: L and R hooks with curvesInitial hooks to curved strokesStress rules with R and L hooksReverse forms of initially hooked curvesChapter 12: More hooks-SHUN hookF/V hookChapter 13: Speed strokesDoublingCON- or COM-Chapter 14: Last wordsFiguresNegative wordsSuffix -SHIPDisjoiningOmission of a consonantVowel insertionLearn effortlessly with a new easy-to-read page design and interactive features: Not got much time?One, five and ten-minute introductions to key principles to get you started.Author insightsLots of instant help with common problems and quick tips for success, based on the author's many years of experience.Test yourselfTests in the book and online to keep track of your progress.Extend your knowledgeExtra online articles to give you a richer understanding of the subject.Five things to rememberQuick refreshers to help you remember the key facts.Try thisInnovative exercises illustrate what you've learnt and how to use it.
Free
Standard Delivery

Within the UK
Also by Pitman Publishing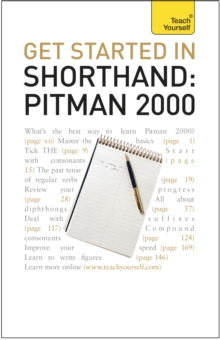 Available for
immediate download
Also in the TY Business Skills series
|
View all