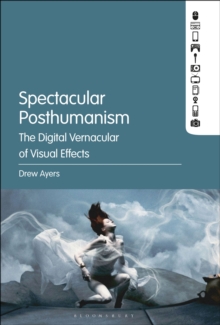 Spectacular Posthumanism : The Digital Vernacular of Visual Effects
Hardback
Description
Spectacular Posthumanism examines the ways in which VFX imagery fantasizes about digital disembodiment while simultaneously reasserting the importance of the lived body.
Analyzing a wide range of case studies-including the films of David Cronenberg and Stanley Kubrick, image technologies such as performance capture and crowd simulation, Game of Thrones, Terminator: Genisys, Planet Earth, and 300-Ayers builds on Miriam Hansen's concept of "vernacular modernism" to argue that the "vernacular posthumanism" of these media objects has a phenomenological impact on viewers.
As classical Hollywood cinema initiated viewers into the experience of modernism, so too does the VFX image initiate viewers into digital, posthuman modes of thinking and being.
Ayers's innovative close-reading of popular, mass-market media objects reveals the complex ways that these popular media struggle to make sense of humanity's place within the contemporary world.
Spectacular Posthumanism argues that special and visual effects images produce a digital, posthuman vernacular, one which generates competing fantasies about the utopian and dystopian potential of a nonhuman future.
As humanity grapples with such heady issues as catastrophic climate change, threats of anonymous cyber warfare, an increasing reliance on autonomous computing systems, genetic manipulation of both humans and nonhumans, and the promise of technologically enhanced bodies, the anxieties related to these issues register in popular culture.
Through the process of compositing humans and nonhumans into a seemingly seamless whole, digital images visualize a utopian fantasy in which flesh and information might easily coexist and cohabitate with each other.
These images, however, also exhibit the dystopic anxieties that develop around this fantasy.
Relevant to our contemporary moment, Spectacular Posthumanism both diagnoses and offers a critique of this fantasy, arguing that this posthuman imagination overlooks the importance of embodiment and lived experience.
Information
Format:

Hardback

Pages:

264 pages, 24 bw illus

Publisher:

Bloomsbury Publishing Plc

Publication Date:

18/04/2019

Category: Media studies
ISBN:

9781501340086
Free
Standard Delivery

Within the UK