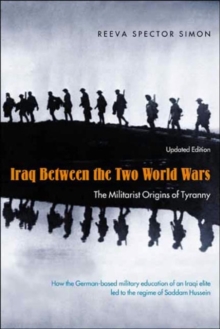 Iraq Between the Two World Wars : The Militarist Origins of Tyranny
Paperback / softback
Description
Why did a group from the Iraqi army seize control of the government and wage a disastrous war against Great Britain, rejecting British and liberal values for those of a militaristic Germany?
What impact did these actions have on the thirty-year regime of Saddam Hussein? Departing from previous studies explaining modern Iraqi history in terms of class theory, Reeva Simon shows that cultural and ideological factors played an equal, if not more important, role in shaping events.
In 1921 the British created Iraq, and an entourage of ex-Ottoman army officers, the Sharifians, became the new ruling elite.
Simon contends that this elite, returning to an Iraq made up of different ethnic, religious, and social groups, had to weld these disparate elements into a nation.
Pan-Arabism was to be the new ideological source of unity and loyalty.
Schools and the army became the means through which to implant it, and a series of military coups gave the officers the chance to act in its name.
The result was an abortive revolt against Britain in 1941. And the legacy of the revolt is still apparent in the next two generations of Iraqi officers that led to the regime of Saddam Hussein. This updated edition locates the sources of Iraqi nationalism in the experience of these ex-Ottoman army officers who used the emergent pan-Arabism to weld a disparate population into a nation.
Simon shows that the relationships forged between Iraqi officers and Germans in Istanbul before WWI left deep legacies that go a long way toward explaining the disastrous war against Great Britain in 1941, the rejection of liberal values, the revolution of 1958 in which the military finally seized power, and the outlook of the leadership recently overthrown by American and British armies.
Information
Format:

Paperback / softback

Pages:

256 pages

Publisher:

Columbia University Press

Publication Date:

19/05/2004

Category: Middle Eastern history
ISBN:

9780231132152
Free
Standard Delivery

Within the UK